red and blue wedding cake
0
Today I wanted to feature a patriotic, All-American cake. Something red, white, and blue.
Let me tell you, it's amazing what you can find when you Google "patriotic wedding cake."
My favorite cake that I found during my search was this beauty. I love the bright colors of the bottom blue tier and the top red tier. I also love the stark white tier in the middle, accented only by a red, white, and blue ribbon.
I think this cake would be perfect for a Memorial Day wedding, or a Fourth of July wedding, or even a wedding in the middle of September. Read More
0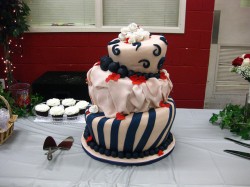 I'm not even sure what to say about this cake. Except it is way cool. It reminds me of blueberries..and strawberries..on a lopsided hill.
This is no April Fool's Joke..this cake is for real. The bottom layer is blue and white vertical stripes on a lopsided layer. The next layer features a layered fondant effect with a blueberry pipping along the edges. It's cute, Read More