Real Life Objects Cakes
The sky is the limit when it comes to cake sculpture. If you can describe it, or produce a photograph of it, then chances are your talented baker can turn it into cake. More and more, we are seeing real life objects cakes, or sculpted cakes as they are sometimes called, served in tandem with a traditional wedding cake. Normally, the sculpted cake is the groom's cake, and can be fashioned into any number of objects: a beer bottle, a football helmet, a movie theatre. Gun case with a semi-automatic nestled in the foam-made-of-cake? No problem. Crab cake that looks like a crab? Easy peasy. Caffeine addict you're baking for? Well then, why not a giant coffee cup? Sand castle? Child's play. If you can dream it, it's likely that your baker can do it. So free your mind. And your cake will follow.
0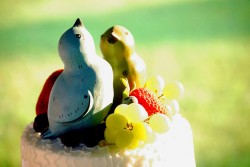 One of the more stunning cake toppers we've seen, this molded bird topper looks almost real but remains tempting to the eye. The simple, slightly animated feeling of the birds sets off the artistry of the piece, and I love the addition of fruit on top of the Read More
0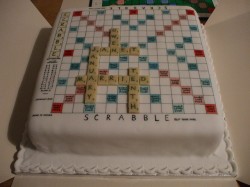 Lots of couples have shared hobbies reflected in their cake selection, and this is one of the coolest ones I've seen! According to the photographer, there were also some scrabble tiles lined up along the sides on the big day.
Talk about precision. This goes along with the trend of Read More