Real Life Objects Cakes
The sky is the limit when it comes to cake sculpture. If you can describe it, or produce a photograph of it, then chances are your talented baker can turn it into cake. More and more, we are seeing real life objects cakes, or sculpted cakes as they are sometimes called, served in tandem with a traditional wedding cake. Normally, the sculpted cake is the groom's cake, and can be fashioned into any number of objects: a beer bottle, a football helmet, a movie theatre. Gun case with a semi-automatic nestled in the foam-made-of-cake? No problem. Crab cake that looks like a crab? Easy peasy. Caffeine addict you're baking for? Well then, why not a giant coffee cup? Sand castle? Child's play. If you can dream it, it's likely that your baker can do it. So free your mind. And your cake will follow.
0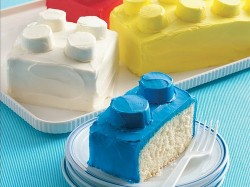 Did your guy play with Legos as a kid? Does he still?
WELL…we think that's pretty adorable.  And if you'd like to Read More
0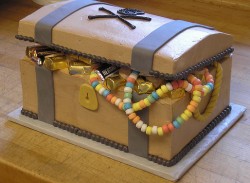 Oh, how I love chocolate.  And how I love pirates (well.  Johnny Depp and Orlando Bloom, anyway.) So this cake is pretty dreamy, don't you think?
I love that it's a cake – and I'm gonna go ahead and assume chocolate – filled with – YES! – Read More
0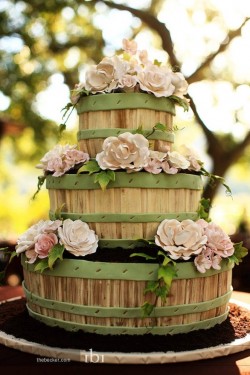 I wanted to feature a cake today that was sort of an homage to summer's last big hurrah.  After all, it's still summer. It's too hot to call it fall yet, and besides, we haven't hit the equinox.

So what signals the end of summer better than gathering an overgrown bounty?  This Flower Basket Wedding Cake was the perfect fit.
Look closely, because those baskets are, in fact, cakes.  The sugar paste flowers appear to be the star of the show when really, they're just garnish.
Isn't the detail Read More
0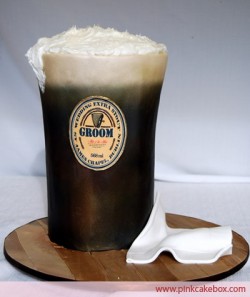 I have beer on the brain.
I'm not sure whether it's the two days straight that I've opted for meals in pubs, or if it's the fact that I just spent an awesome week with a beer loving friend, but I knew it was time to feature that king of groom's cakes: The Beer Cake.
But isn't this cool?  If I'm gonna drink beer, it's gonna be a good one, and this replica of a pint of Guiness Extra Stout, with lots of cute changes made to the label to make it an original statement, is just awesome, and celebrates right where I am today.  I don't know if it makes me crave cake or beer, though.  Either way, it's good.
We found this fantastic cake on Pinterest, but if you're after the look, it was created by the team at Pink Cake Box.  We are huge fans of their meticulous work.
0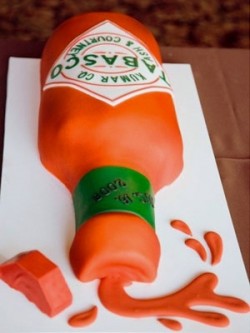 Ready for something a little spicy today, Boys?
I know a LOT of fellas that don't think their meal is complete without a little shake-shake of their favorite hot sauce.  And while we all have our favorites, Tobasco does seem to be the Granddaddy of them all, yes?
I think this is a really adorable cake.  I'm always slightly amused by sweet cake that's shaped to resemble something that it won't possibly taste like.  But then again, maybe they managed to add some Tobasco to the filling.  What do y'all think?  Chocolate-Tobasco Read More
0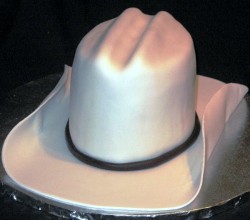 "When my ten-gallon hat is feelin' five gallons flat…"  Am I the only one who thinks of PSAs from childhood when I see huge Stetsons?
Isn't this cute?  Well, I suppose the cowboy who inspired it wouldn't appreciate me calling it that, but it is.  I'm assuming our groom – and maybe even our bride – does a fair amount of riding on the range, and needs something to Read More
0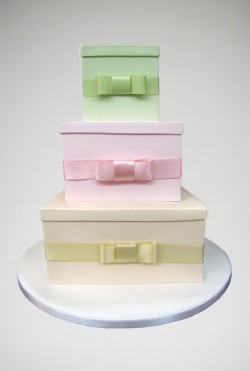 I love me some classic…well, anything. And isn't this pretty? I just want to grab my pencil skirt, cashmere cardigan, pearls, and kelly bag and go shopping with the girls. And then maybe to lunch. At Neiman Marcus.
Whew! Went a little too far into that 1950s movie fantasy right there.
But this cake will Read More
0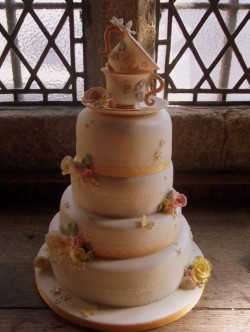 Darlings…we have a new entry in the quest for Brooke's cake heart.
I am a passionate follower of afternoon tea, and I love anything to do with tea time and its rituals.  So when Marianne Kuhn of Dazzlelicious Cakes in Plymouth, England, introduced herself to me on Facebook recently, and I was so glad she did!  Because I instantly fell in love with her cakes, and this one currently has the top place with me. From Marianne, I learned some delightful details about the cake.  The couple wanted only a small cake, but loved Marianne's flavors so much that they ended up asking for four tiers!  They wanted to incorporate Read More
0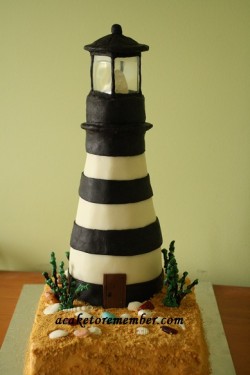 And here's one for ME!
I love lighthouses, and I love Kara Buntin of A Cake to Remember in Richmond, Virginia (seriously, brides and bakers…READ HER BLOG.) So that prettymuch guaranteed that you were going to see this cake.
So here's deal…this isn't actually a wedding cake. But it COULD be. Or it could be a groom's cake (but it isn't, that I know of.)
But don't you love it? It's a base Read More
0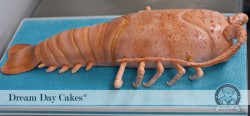 So, last week, we showed you the adorable "He's Her Lobster" groom's cake, created by the ab fab Jenniffer of Cup a Dee Cakes in Georgia.  We were thrilled then to hear from our Read More