bird nest wedding cakes
0
Oh, but the summer vibe just keeps on getting summerier.  That's a word, right?
So, today's cake isn't so much about the cake itself – don't be hatin' on me 'cause it came from Publix Supermarket – but it is about the beautiful way that the bride and groom decided to dress it up with so many darling details.
The cake is the perfect blank slate: white fondant with big, exaggerated, pearl trim.  But what really caught my eye were the succulents trimming the cake (LOVE THEM), as well as the adorable – I mean, CRAZY adorable! – lovebirds nesting on top.  The final touch is the Read More
0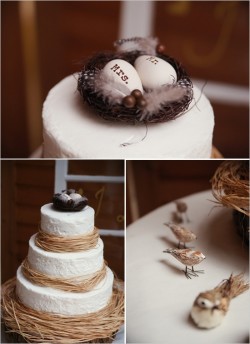 So, before I launch into my normal and characteristic rhapsody, a disclaimer: this picture has been repinned on Pinterest.  A lot.  And it would seem that the original link was to some spammy site, rather than the original source.  But I simply had to show it to you.  So if you know who is responsible for this darling genius of a cake, please speak up.  Ok.  Onto cake gushing.
So, the eggs and nest are cute enough here, right?  New love, new life hatching and all that.  But when you pull back and see the darling Read More