dark chocolate cake
0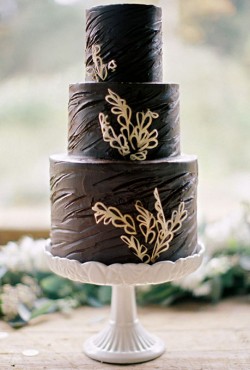 Can you feel it? Fall is almost here!
And that means it is time to start talking about dark and dramatic – and in today's case – chocolate wedding cakes!
I love the dramatic look of today's cake – a tower of dark chocolate icing adorned with a few white flower details.
It's the perfect cake for a fall wedding. Read More
4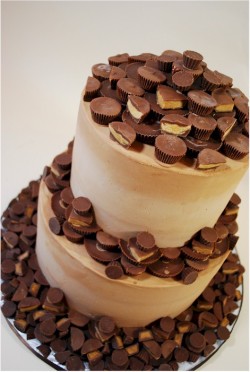 Peanut butter and chocolate…is there a more heavenly combination? But seriously I am full-fledged Reese's addict, and this cake is a dream come true!
I came across this blessed jewel on Pinterest but it originated from the lovely Cup A Dee Cakes. They classified it as a groom's cake but I happen to think that it would be a great non-traditional (and yet still traditional) wedding cake.
And if you didn't swoon over the copious amounts of Reese's cups on the cake get ready for the deliciousness inside! It is a dark chocolate cake covered in peanut butter buttercream frosting. I'm in heaven ya'll!
Now if you will excuse me I am off to satisfy my Reese's craving while you all contemplate the amazingness of this cake!
Source: Pinterest