new york wedding cakes
0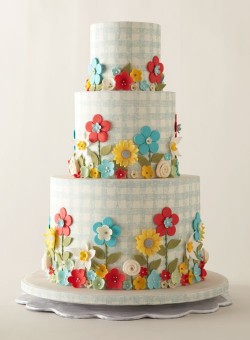 Gingham is darling anyway, but gingham on a cake? Yes, please!
The brainchild of Bijoux Doux in New York City, this cake is whimsical, joie de vivre-y, and makes me want to wear a party dress and drink lemonade.  In other words, it's summer perfection.
The double-height layers – an effect that we just love around here – are covered with what appear to be made with a silkscreen transfer on sheets of chocolate, but it could be fondant with an amazingly sharp edge.  The muted Read More
0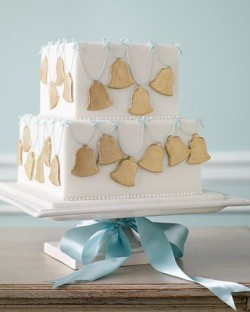 We still say that wedding bells are ringing…but when did you actually last hear some?
Well, even if churches don't still come with nifty bell towers (and lots of people don't even get married in churches these days), it's still a quaint thought.  And this cake celebrates that notion bee-autifully.
Two square tiers, flawlessly covered in white fondant and trimmed with an edge of tiny white dots are then embellished with bells, cut out from more fondant, painted with edible gold dust, and Read More