vintage style cake toppers
0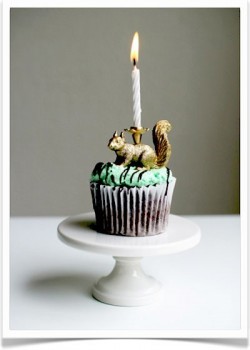 We are always up for wedding DIY at A Wedding Cake Blog.  We've explored DIY wedding cake techniques, DIY mini cakes, and DIY cupcakes.  (We are kinda all about the cake around here.)  I mean, nothing is more gratifying than when you are at your bridal sparkly beautiful best, AND someone finds out that, why, yes you DID make every single one of those cake pops yourself!
But here, we are on to another level of craftiness:  making your own candle cake toppers.  I Love love love love LOVE!  THIS!  These gilded cupcake toppers look super high-end and all kinds of Read More
0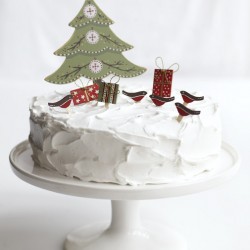 Next week I have a big fat week of Christmas-themed cakes planned for you. I mean I could just post regular old wedding cakes–but then I wouldn't really be in the spirit would I?
In order to gear up for Christen's Christmas-avaganza 2011 I thought we'd start here with this cute cake topper. This is a Scandanavian-style wood cake topper, featuring a beautiful Christmas tree, complete with presents and robins. Love. It. Especially the robins. It's vintage and Read More