alice in wonderland wedding cake
0

As we head full-steam into summer, this week's wedding cake flashback is the super colorful and fun seven-foot-tall cake served at the 2004 wedding of Mariska Hargitay and Peter Hermann.
I love this cake because it has a Read More
1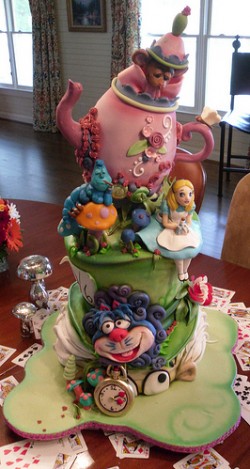 It's no secret that I am a fan of Alice in Wonderland. I am also a fan of Alice in Wonderland weddings. I mean have you ever seen some of these magical Alice-themed weddings that Disney has put on? Ah-mazing.  We've featured a couple of Alice in Wonderland-themed treats here and here on A Wedding Cake Blog in fact. I've even seen some non-Disney weddings that have been breathtaking. There is just something about the story that is just so whimsical that allows for a gorgeous backdrop.
Enter this amazing cake made by Karen Portaleo the Sugar Artist (what a cool title, yes?) from Highland Bakery in Atlanta, Georgia. I mean seriously–let's get Read More