rainbow cake toppers
0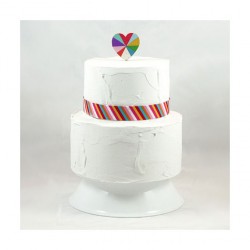 Since we're in the dog days of summer it seems like a good time to showcase another simple rainbow wedding cake.
Rainbows and summer go hand-in-hand, right?
I love the simplicity of this cake. It's not fussy or over-the-top. It's just a simple two-tier white wedding cake with a little bit of color added thanks to a cute little cake topper. Read More
0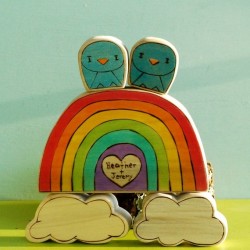 Last May I kind of fell in love with Star House Designs when I featured their Bicycle for Two Cake Topper. That love was solidified today when I came across this adorable Rainbow and Little Tweet Cake Topper.
Somewhere over the rainbow…skies are blue! That's how you should feel on your wedding day right? I love this cake topper because of its simple and sweet message. This topper is handmade and hand drawn by Heather and Jeremy of Star House. The topper is totally customizable including the color and the bird and Read More