0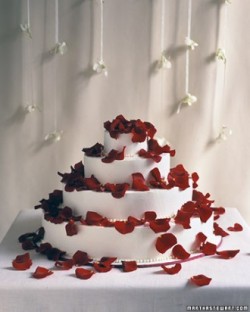 I've been writing a lot about the use of fresh flowers on wedding cakes and how much I love the trend.
Heck I even used fresh Black Magic Roses and greenery on my own wedding cake more than a decade ago.
Fresh flowers just never go out of style (in my humble opinion).
But, instead of using the whole flower, consider for a moment using just the petals from those fresh flowers – just like this cake. Read More
0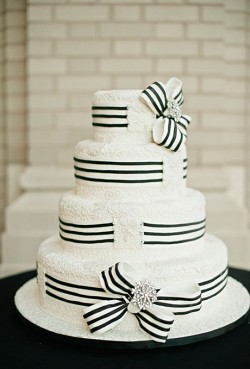 There's just something about a black and white wedding cake that (subtly) screams glamour and elegance.
I'm a fan of the traditional white wedding cake – even though I do love cakes with pops of color too – but when the only color added is black it takes the cake to a whole new level of awesome.
I love this wedding cake. The tiers are iced to resemble lace – perhaps just like the lace in your wedding dress. And then each tier is embellished with a gorgeous and modern black and white fondant ribbon. Read More