cakes with sprinkles
0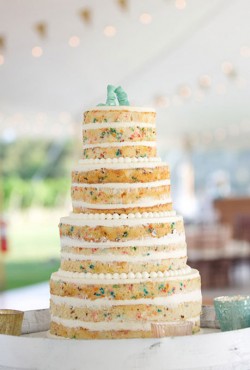 I will admit that I have a love-hate relationship with "naked" (non-frosted) wedding cakes.
On one hand I love the elegance and modern vibe of the cakes.
But on the other hand I'm a frosting kind of girl – the more the merrier. So a cake that purposely lacks frosting is suspect.
However, I do love this naked wedding cake if only because the cake batter has sprinkles baked in, giving it a very spring-y, colorful vibe! Read More
0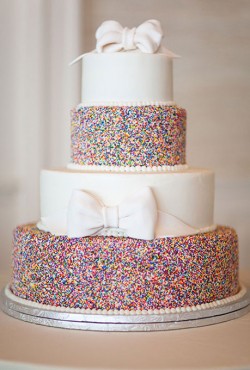 There's something about a wedding cake decorated with sprinkles that I'm loving this spring!
I don't know if it is the whimsical nature of the sprinkles or the fact that it's a fun way to add some rainbows to your big day but I really love this trend.
If you're going to use sprinkles on your wedding cake you can either go big – and decorate the entire cake with sprinkles – or go more subtle, like today's cake. Read More
0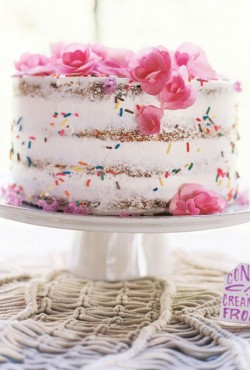 I prefer my wedding cakes to have a lot of icing. After all, is a cake really a cake without icing?
But sometimes I find a "naked" wedding cake (sans icing) that really intrigues me.
Take for example today's nearly naked caked that is adorned with some colorful and whimsical sprinkles. Read More