chocolate truffles
2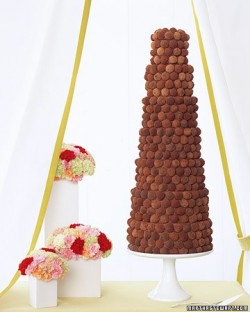 Care for some chocolate?  Because I am having a totally chocolate attack.  And now, so are you.
Martha strikes again, y'all.  Don't you simply love this?  Inspired by the French croquembouche, which is a tower of cream puffs covered with spun sugar, Martha Stewart and Co. came up with this chocolate truffle wedding cake.  This is seven layers of cake, coated with chocolate ganache.  The hand rolled truffles are then coated in different cocoa powders for slight variation in color, cut in half, then Read More
0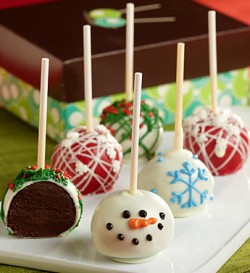 To quote one of my very favorite Christmas movies, "Deck the harrs with bows of horry, Fa ra ra ra ra ra ra ra ra! 'Tis the season to be jarry, Fa ra ra ra ra ra ra ra ra!" In case you're missing something go ahead and tune into TBS and watch The Christmas Story for 24 hours this Christmas Eve. You'll get it.
Since Christmas is among us I decided it's high time we Christmas it up here on AWCB. Today I'll be featuring my favorite Christmas cake pops from around the interwebs. Cake pops are Read More