dark red roses
0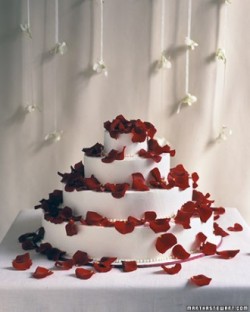 Nothing says "love" like a red, red rose.
We see proof of that each week on a certain very popular television show where seemingly reasonable adults go a little crazy at the prospect of getting THE rose.
Obviously the rose is a powerful flower.
So what better flower to use to accent your wedding cake than a dark red rose?
I absolutely love this cake and how the stark white icing is accented by the rose petals. Read More
2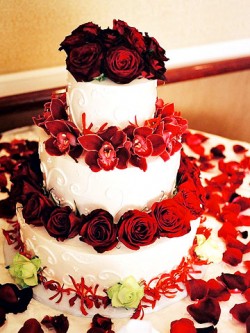 There's just something about dark red roses that I love.
They're dramatic. And beautiful. And they're the perfect flower to represent all things love.
They're also a perfect flower to adorn a lovely white wedding cake, adding both beauty and drama to the cake.
And when you add in some deep red orchids and green roses, you have an incredibly gorgeous cake. Read More
0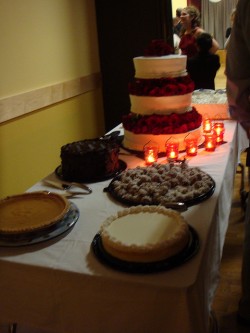 Sure..have your wedding cake, your chocolate cake, cream puffs, strawberry cake, cheesecake and …pumpkin pie? And eat it too.
I'm not sure if I have ever seen this many desserts at one wedding…but…you know…why not? Desserts are kind of amazing yes? The highlight of this dessert table is of course the three-tiered white wedding cake adorned with deep red roses. The cake is a traditional three tiered round cake covered with Read More