gold wedding cake
0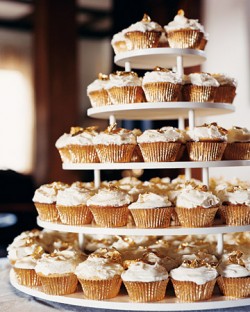 I absolutely love cupcakes and had they been the "in" thing all those eons ago when I tied the knot, I would have totally served cupcakes at my wedding.
And these golden cupcakes would have been at the top of my list of favorites!
The cupcakes are carrot cake – which isn't everyone's cup of tea, I know – but I'm sure you could adjust the cake flavor to something you liked if you aren't a fan of cakes made from carrots. Read More
0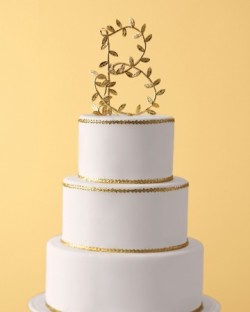 I love fall just as much as the rest of you.  But when you Google "fall wedding cake" you can only configure bronzed autumn leaves and scatter them across a cake in so many different ways before they all. start. looking. the. same.  This cake, therefore, was a breath of fresh air.
The gold trim still says fall.  The simple white background ensures that you'll focus on the gold, which is what you should be doing.  And the very simple gold trim needs know embellishment beyond its pretty, shiny color.  But isn't that "B" on top darling?  Rhinestone initials were done to death in 2011, so this is just a lovely take on the whole monogram thing, but in a graceful and fresh way.
We found this cake on Pinterest.  Unfortunately, the link back to Martha Stewart's website is broken.  Too bad.  We would love to know the artist responsible for the pretty.
0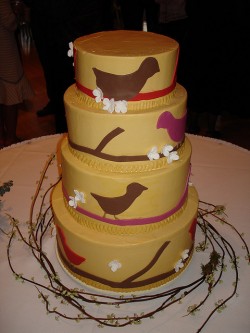 The birds are where it's at these days! (I must be craving spring on this cold December day.)
I loved the modern, clean look of this cake with silhouetted, cut-out fondant birds and twigs surrounding a clean, golden-hued cake.
The addition of stark white Read More