hand made wedding cake toppers
0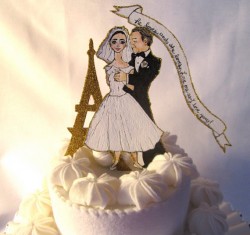 Gasp.
When I first was directed to Jolie En Rose Vintage on Etsy my first thought was: Oh my.  It's going to be hard to choose just one of these to feature. And then…much like a movie…it happened.  My meet/cute if you will.  The Funny Face inspired cake topper.  If you haven't seen this movie walk…no run…to your Netflix and queue it up.  Singing, dancing, pretending for one nano second that putting frumpy Read More
0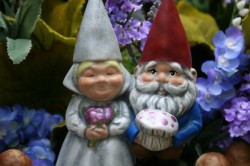 Oh gnome you didn't!
I've been waiting forever to say that.  Well. .at least since last Halloween when I tried to convince my husband to let me dress up our one year old as a garden gnome.  He wouldn't let me–but I had all sorts of giggle-inducing puns ready just in case.  So since my efforts were thwarted back then I get to share them all with you people.  Lucky you.
But seriously…gnome cake toppers?!  I love it.  The certainly aren't just for gardens anymore.  These adorable cake toppers are made by PhenomeGNOME (I think we would get along just fine with our gnome jokes).  You can personalize your gnome by choosing hair, clothing, mushroom, flower, and the base color.  They are hand made and hand painted and just gorgeous to look at.  Of course–if you fancy, they could just sit prettily on your shelves as well.  Who gnomes…it's up to you.
Visit PhenomeGNOMEhere and the lisitng for these gnomes here.
0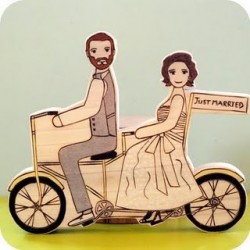 My recent fascination with all things homemade and vintage has lead me into a wonderful word of handmade Wedding Cake Toppers & that includes this beauty.
This topper makes me want to ride my bicycle barefoot with my groom singing songs about my beautiful balloon. Is that just me? Not only would it make an adorable cake topper but it would also look great on a bookshelf as a wedding day memento for years to come. I originally found this beauty on Pinterest but after some digging I discovered the Etsy store Read More