white chocolate cake
0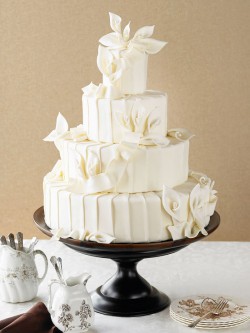 We've been featuring a lot of very colorful cakes lately, so I thought it would be nice to showcase a cake that was simple and beautiful.
Which brings us to today's all-white wedding cake.
This ivory tower is a four-tier cake decorated with white chocolate fondant. Yes, that's right. Even though it's an all-white wedding cake there's still chocolate involved!
The white chocolate fondant is elegantly pleated, giving the cake the look of a wedding dress. Read More
3
Do you remember a few weeks ago when I talked all about my friend who had a black wedding cake..and then I totally admitted defeat and told you I couldn't find a picture?
Well thank god for Twitter because I sent out a cry for help and Read More