coral and blue wedding cake
0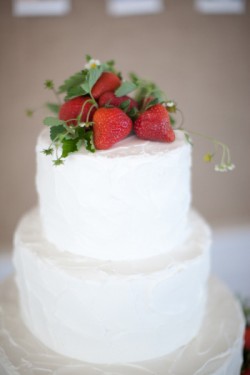 Happy Father's Day to all of our dads out there!   While we are fixin' to set out on a beach picnic (I know…tiresome…that's how we celebrate everything, it seems), I love showing you what we've been up to all week, as well as checking out what our friends are doing with their extraordinary gifts and abilities.  Let's start with our some pretty cakes, brought to you by, well, US!
On Monday, I shared with you what is destined to be one of my most favorite cakes EVER – the Teacup Wedding Cake.
Tuesday brought with it Shades of….Purple, when Kasey shared a lovely Read More
0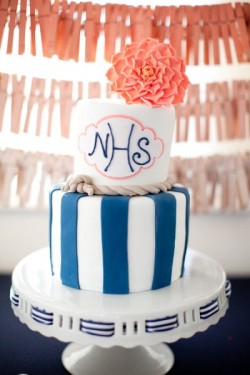 I love sweet and simple. And today's cake is just that!
Cake Goodness in California is the bakery behind this sweet nautical-themed cake, which was featured on Style Me Pretty, and was captured by Shannon Lee Images.  And I have to say that I love how they incorporated so much into such a little cake! This cake was for a beach wedding in Malibu – hello dream wedding location! – and as the wedding incorporated nautical elements, it was important to carry the theme through to the cake. The blue and white stripes on the lower tier evoke that beach club, nautical feel, and the fondant rope around the base of the top tier really completes the look. But they took it one step further and "iced" it with a cake stand that incorporated a blue and white striped ribbon. I also love how they stepped out of the traditional yellow and blue nautical color scheme and went with blue and coral. The coral dahlia on top is fun and unique and sweet! And I love that they incorporated their monogram on the top tier.
To sum it up pretty much everything about this cake is perfect!