eiffel tower wedding cake toppers
0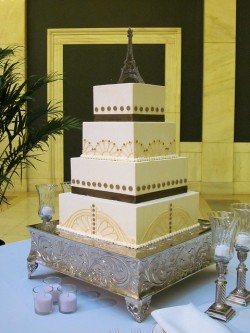 I started to make this cake a feature for Wedding Cake Topper Friday, on account that I heart Paris in the most longing way, and so of course I sighed and swooned when I saw this fabulous cake.  But honestly, the cake is so much more than that topper.  And so here it is, the star of its own post.
I'm a big fan of art deco anyway.  Have you seen Midnight in Paris?  Woody Allen's 2011 Oscar contender straddled the line between present day and 1920s Paris.  I loved it immediately, and this cake, with its art deco motif and La Tour Eiffel topper, takes me right to it.  And there's something so Read More
Other Posts You May Enjoy:
0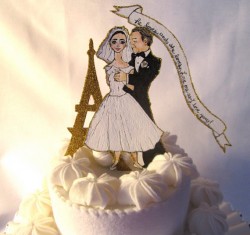 Gasp.
When I first was directed to Jolie En Rose Vintage on Etsy my first thought was: Oh my.  It's going to be hard to choose just one of these to feature. And then…much like a movie…it happened.  My meet/cute if you will.  The Funny Face inspired cake topper.  If you haven't seen this movie walk…no run…to your Netflix and queue it up.  Singing, dancing, pretending for one nano second that putting frumpy Read More
Other Posts You May Enjoy: