feminine wedding cakes
0
I think rose petals are so beautiful. Maybe it's old fashioned of me, but they're so ruffly, and dainty.  They smell good and even feel good, with their soft, matte-velvet texture.
I think this cake is just so pretty, don't you?  It mimics that beautiful yellow-meets-blush look that you can only find on roses.  At first, I thought the embellishment around that bottom tier was Read More
1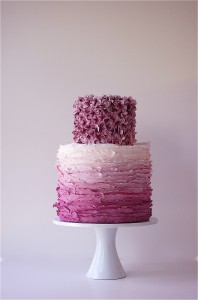 We have to end Ruffle Week 2011 with a bang…I believe that is cake is the cake to do just that.
I'm not sure there is anything more "Fall 2011″ than Ombre & Ruffles.  When you combine them, wonderful, wonderful things happen.  Like this cake from Maggie Austin Cakes. (If you'd like to know about Maggie Austin Cakes – and trust me, you do – check out this week's Round-Up for a terrific article about the artist.)
In case you have no idea what I am talking about, ombre is basically taking the same shades of one color and having the colors scale from light to dark.  We've talked about it a time or two here.  I have Read More