hand painted cakes
0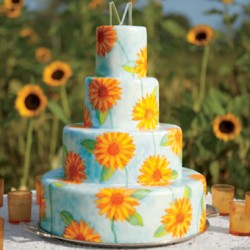 Sunflowers are my absolute favorite flower.
Sure, I love roses as much as the next person but sunflowers are just so darn happy. It makes them really hard to resist.
So imagine my surprise when I saw today's wedding cake – it's all sunflowers! Read More
0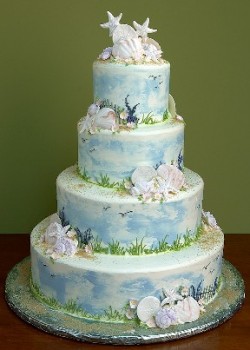 If given the choice I would live at the beach because I'm a firm believer in the theory that life is better in flip flops.
I love everything about the beach – the sand, the surf, the colors of the ocean. And, I always thought it would be romantic to be married on the beach. Which is why I love this beach-themed wedding cake. It just screams romance and you can almost hear the waves crashing in the distance, right?
The four-tiered cake appears to be hand painted with a seascape theme of blue skies, picket fences, sea grass and sand. Read More
0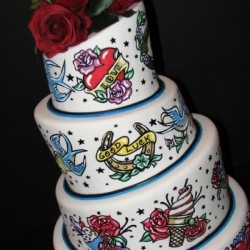 Is your guy inked?  Are you?  Well, then I've found your cake.  You're welcome.
Isn't this cake fab?  The tattoo designs are so retro awesome that I couldn't resist.  And the motifs are darling, from "Love" to "Luck."  And extra points for ice cream and cupcake tattoos!  The topsy-turvy asymmetrical layers are so fun, with red, red roses topping the whole thing in a nod to tradition.  And the hand-drawn designs on fondant are incredible.
We don't know who made this lovely cake, but if you do, we'd love to hear!  We found it on Pinterest.  And even though you'd never want to copy a cake exactly, this is a great cake for taking a stellar concept and making it your own.
Love the idea of a tattoo wedding cake?  See this one we featured earlier this year.