sunflower cake
0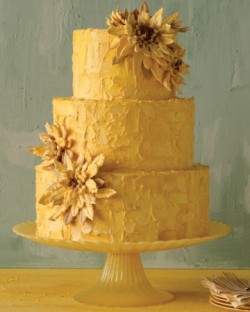 My favorite thing about fall – other than all things pumpkin flavored – are the stunning colors of the leaves in the trees.
I love the contrast of reds and oranges against a blue fall sky, but my favorite fall color is bright yellow.
Those yellow leaves seem like the last connection we have to the warmth of summer. They're also the color of my favorite flower – the always cheerful sunflower.
Which bring us to today's cake. It's a gorgeous three-tier cake and it's all yellow! Read More
0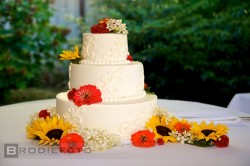 Here are two words I am loving lately: Sun & flower..combine them together..well that's even better! It also reminds me of that Liz Claibourne perfume I used to adore in the 7th grade. I used to go to the counter at Belk and spray that bad boy all over. When I finally saved up $35 I went and bought myself a bottle. I saw it on sale at Walgreen's the other day for $7.99. Oh my.
But I digress. With Spring creeping up I am in the mood for cakes with happy flowers that make me think of sunshine and long nights. Even though the flowers on this cake have more of a fall themed hue I think it could easily be used for spring or summer by throwing in some bright colors. Enough about the flowers..look at the cake! The pipping on this cake is a gorgeous swirl design. I also love the pipping in between the three layers as well. So pretty and so well made by Callie's Confections in Asheville, NC. (If you've never been to Asheville…book your trip now! It is one of my favorite places in the world!)
Photo Source: Matt Brodie at Brodiefoto