the whipped bakeshop
0
Maybe this only happens to me…but I fall in love with bakers. True story.
I fall in love with them and then every single cake I see just kind of blows my mind and suddenly my palms get all sweaty and I kind of want to marry them (marry them in the way one would want to marry a baker I guess) and then I start sending them embarrassing tweets like "Hi..I love your cakes they are great." And then I spend the next few hours checking my Twitter to see if they've replied back while slapping myself on the forehead and muttering Read More
0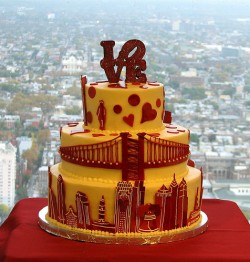 I'll admit I don't know much about Philadelphia. Rocky, cheese steak sandwiches, and that it's where the Fresh Prince was born and raised. (And spent most of his days on the playground from what I hear).
Another thing I know about Philadelphia is that is home to the LOVE statue. You know the one.I learned something new about Philadelphia today. Robert Indiana's LOVE sculpture and the city of Philadelphia inspired this gorgeous wedding cake. This three tiered Read More