diamond cake toppers
0
When I saw this cake I instantly adored it, probably because it evokes a little bit of The Great Gatsby vibe with the elegant cake topper and diamond brooch decoration. It's just classically beautiful and elegant.
This four-tiered cake was created for the celebrity wedding of former Survivor contestant Stephenie LaGrossa and Major League Baseball pitcher Kyle Kendrick. Their wedding took place in California in November 2010. Read More
2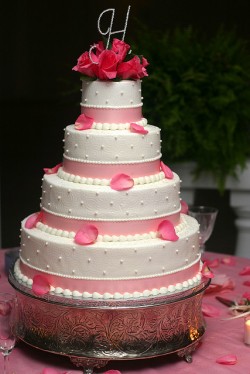 ..and I am not talking about Molly Ringwald and her pal Duckie (you know..that guy from Two and a Half Men..oh Charlie Sheen..what have you done?  That's another rant for another day)..
After a week of posts about Fruit Cakes, Cake Parties and Jello Wedding Cakes and I ending this week of non-tradition with just the opposite. A cake that screams wedding. Strike that..a gorgeous cake that screams wedding.
This four tiered round cake is a fondant creation with gorgeous piping and imprinting Read More