florida cake toppers
0
Does your mom help you find awesome content for your blog?  Because my mom totally does.
Mom is a lover of all things beachy, so she fell in love instantly with these cute flamingo wedding cake toppers about three seconds after she saw them on Shorely Chic's blog…and I followed right in her path.
There are few Read More
0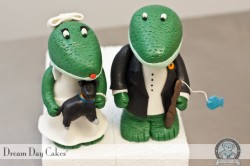 So…full disclosure:  I am not so much a Florida Gators fan, even though I live right here in Gator Country.  However, when in Rome, yes?
Aren't these darling?  These Gator cake toppers pay homage to the University of Florida mascots – and maybe the alligator that lives in your Read More