polka dot cakes
0
We're not done with Valentine's Day yet – oh nosireebobby!
Aren't these little lovebirds adorable?  I mean, the polka dot cake by Cakebee in Centreville, Virginia, was already all kinds of sweet, but then the dream team baker and bride came up with these precious felt bird cake toppers.  The red on the hearts coordinates with the cake so perfectly!  And the birdies are so life-like that you can practically hear the chirrups.
The bird motif was super hot in 2011, and it looks like it will carry over into 2012.  What do you Read More
4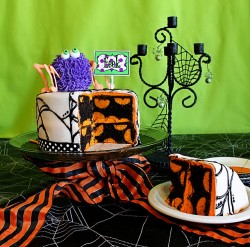 Halloween is my second favorite holiday of the year.  It's a close second to Christmas…but that's not really a fair comparison though.  I mean Christmas lasts from November 1st to January 1st…basically.  Halloween gets a good solid week of celebration but it's such a FUN celebration.  One day (or two or three if you happen to be extremely popular and get invited to multiple parties) a year you get to abandon yourself and pretend to be someone (or something) else for just a little while.  Did you know that Halloween weddings are actually more popular than Christmas weddings?  It's true.  I looked it up in this big book I have in my living room Read More
0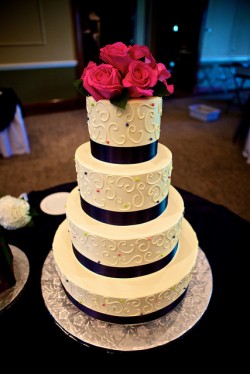 This cake could be any of a dozen…except for those adorable polka dots.
It caught my eye initially because of its perfection – this cake artist knows his (or her) stuff when it comes to smoothing buttercream and adding swirly cues.  Four stacked layers, decorated simply with buttercream, white on white, and a trim of wide, satin navy ribbon.  To top it, the flower nosegay that crowns the cake is just lovely.  But what really Read More