hot pink wedding cakes
0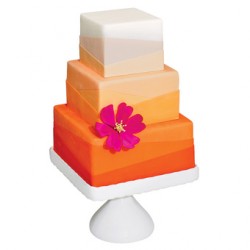 I'm feeling a little tropical-y today, girls.
Isn't this lovely?  It's like a sunset, you know?  The structured bands of orange range from palest to deepest with a lovely ombre effect, and the contrasting hot pink posy is, well, perfection.  It makes me Read More
0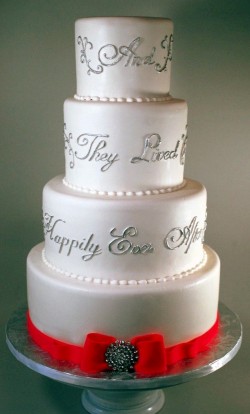 Those with any sense know that "And They Lived Happily Ever After" signifies not the end of the story, but the beginning.
Today, we feature another beautiful cake by Jenniffer at Cup A Dee Cakes in Tunnel Hill, Georgia.  Clearly, Jenniffer knows this secret, and so does the couple for whom she made this beautiful cake.
So there are lots of fun things to love here.  First, be sure to read Jen's original blog post about how she got that pretty silver lettering onto that cake without going all wonky and downhill like most of us would.  Next, don't you love that vivid pop of Read More
2
I love pink roses. They are my second favorite flower…next to the gerbera daisy. I got married in October and when I met with my florist I said, "I want gerbera daisies," and he said, "Change your wedding day and we have a deal!"
Apparently October is not the idea time for daisies. Who knew?
And so I settled for roses. I guess this really wasn't so much settling as I do love roses as well. I told him I really didn't care as long as they were pink. "What about hot pink?" he said. From that moment on my world was rocked and I was in love Read More