southern wedding cakes
0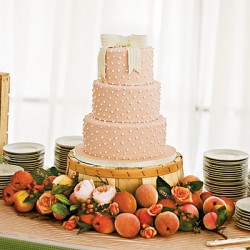 We are a peach lovin' family.  No.  You don't EVEN understand.
Hubs is from the Great State of Georgia, and while we lived there, we waited with HUGE anticipation every year for the peach crop to come in.  And since it's kinda short, we would buy tons and just gorge ourselves on them.  We'd freeze them.  And they went into everything we could possibly think to use them in.
So, when I saw this beautiful cake on Southern Living Magazine's website, I just knew I had to feature.  It's peaches, y'all!  The peach-colored cake is covered with white dotted swiss and topped with a bow.  But the real magic is the garnish of peaches and floppy peach colored roses and peonies at the base.  The cake is also adorably displayed on an overturned bushel basket.  Darling!
0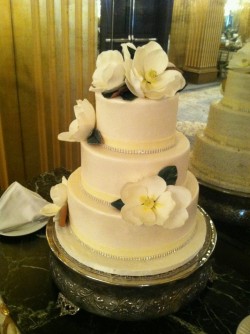 If I can't have pearls, then diamonds will do.  Agreed, girls?
This cake practically drawls at us from the computer screen, doesn't it?  Oh, how I adore Savannah!  Random?  Not really.  For this cake evokes long, slow, sultry walks on the squares, and delicious food, and beautiful architecture, and gracious people.  That's no coincidence, because this cake was created by Savannah's own Custom Cakes.
Sugar magnolias rest on a simple, classic white cake.  The base of each layer is trimmed with ivory ribbon and capped with a double strand of rhinestones, which Read More
1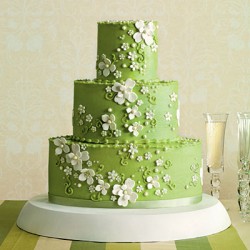 Spring strikes again!
One of my very favorite signs of spring (when I used to live in a place that had such things) were the dogwoods blooming out every season.  Ah.  Breathtaking, and as intoxicating as that first warm day when you are so super tempted to go barefoot through the damp, soft grass.  So this cake caught my eye in about a second.
The vibrant grass green color is the perfect choice Read More