cakes with pink roses
0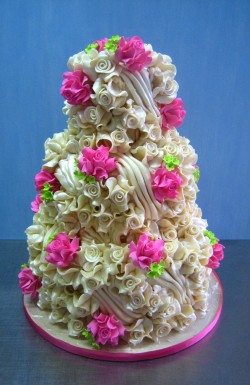 I love roses, which means this cake is quite possibly my favorite cake in a very long time.
This cake is another incredible creation by our friends at Hockleys Cakes in the United Kingdom and it's gorgeous!
Called the 'Aphrodite,' the cake is a vision of pink and white roses.
The three-tier cake is covered in 180 chocolate roses in addition to pink sugar roses. And it's all hand-crafted.
Not only is this cake a stunner, but…180 chocolate roses! That is a lot of chocolate. If you're a chocolate fan this is definitely the cake for you.
I love the subtly of the white chocolate roses and the bright color pop from the pink sugar roses. It  would be such a lovely cake at a spring or summer wedding, especially if you were incorporating roses into your floral theme.
Many thanks to our friends at Hockleys for sharing this creation with us.
Photo credit: Hockleys Cakes
0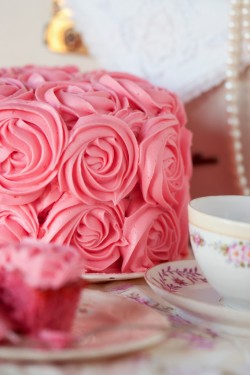 Sometimes cakes are too pretty to eat. Seriously, I would have an awful time eating this one. It's just that gorgeous.
This cake was made by Mary from Apron of Grace for her neighbor's birthday. While this cake might be a bit small for a wedding cake, Mary also states that the design would be lovely on cupcakes and I agree. I also think these sweet rosettes would be amazing on a three Read More
2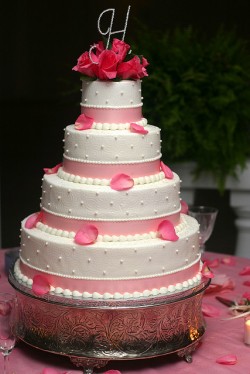 ..and I am not talking about Molly Ringwald and her pal Duckie (you know..that guy from Two and a Half Men..oh Charlie Sheen..what have you done?  That's another rant for another day)..
After a week of posts about Fruit Cakes, Cake Parties and Jello Wedding Cakes and I ending this week of non-tradition with just the opposite. A cake that screams wedding. Strike that..a gorgeous cake that screams wedding.
This four tiered round cake is a fondant creation with gorgeous piping and imprinting Read More