porcelain cake toppers
0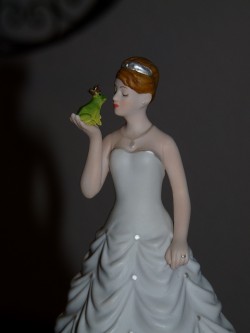 I came across this adorable shot the other day and just had to show you.  Are you the fairytale-loving bride?  Then this one's for you.
Bride, Meet your Prince.  Now smack one on him and hope for the best!
Who should use this topper, do you think?  She who Read More
0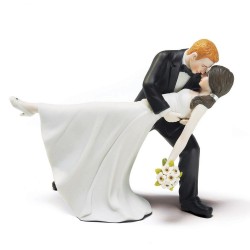 So I know that I've proselytized about this before, but I am not a big fan of wedding cake toppers where one party is dragging the other to the altar, or shackling them in some way.  I just don't find it funny to intimate that marriage is unsavory.  Stodgy and stick-in-the-mud of me?  Perhaps.  But if you don't want to do it, then why are you there?
I love sweet or funny toppers, though.  And this one definitely qualifies as the former.  A couple dancing, with eyes only for each other, in a darling, tender, saucy little pose. It's Read More
0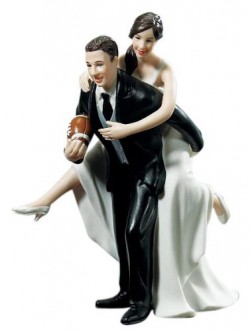 Hut…hut…HIKE!
Will your wedding reception feature a pick up game of touch football?  Not so much?  Do you wish it did?
Even if your über expensive gown and shoes (and makeup and hair and nails) don't lend themselves to grass stains and sweat, you can fantasize about playing football with your new life partner with this adorable Football Toting Couple Cake Topper from Weddingstar.
I mean…how fun is this, anyway?  I love this idea of the couple who plays together.  Because you can't play together without Read More