marbleized wedding cakes
0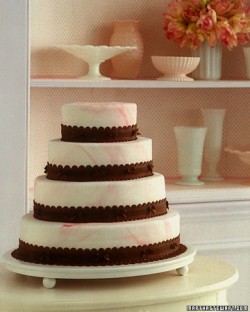 Chocolate and coffee – is there anything better than these two flavors? I think not.
Which is why I just had to feature this cake today – it's a marble chocolate and mocha cake with a marbleized fondant. It's such a pretty – and unique – cake that I couldn't resist sharing it with you!
The four-tiered cake features alternate layers of chocolate marble and mocha marble. And as good as chocolate and coffee are as separate flavors, you know when they're combined to make mocha it's that much better! Read More
0
It happens.
As you can imagine, I spend a wee bit of time looking at wedding cakes.  (Okay.  A LOT of time.)  And every once in a while, I find one, and save it, and "ooh" and "ahh" over it…but sorta kinda forget to, you know, note where it came from.
Enter this beautiful cake.
I love LOVE this marbleized technique. And whether it's achieved with fondant or modeling chocolate, I think it's just so cool.  That's obviously what I thought when I saw this one, except I must have gotten so excited that I didn't credit it.
I can't really make out some of the flowers, but I believe the smaller ones are dogwood blossoms, some of my springtime favorites.  And the simple piped beading is a nice finish.
So please, feel free to let me know if you know who baked this lovely cake, because I just HAD to show it to you.  But I certainly love to give credit where it's due.  I'd really enjoy seeing more of their work, or hearing the story behind this one.
0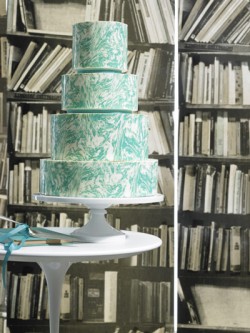 I love showing you something a little funky and off the beaten, trendy wedding path from time to time.  This beautiful cake is neither buttercream nor fondant (although we suspect that buttercream is the glue beneath the surface.)  The decoration here is chocolate, believe it or not!  The stunning marbleized effect is achieved by using transfer sheets with edible dye.  The chocolatier spreads tempered chocolate over the acetate sheets, and as it cools to a hardened (though still malleable) state, the cake is wrapped with the sheets Read More