Wedding Cupcakes
Cupcakes. Yum! Wedding Cupcakes. Yum and adorable! Unless you've been living under a rock, then you are aware that cupcakes became hot a few years back, and seem to be here to stay. Cupcake bakeries – cupcakeries – have sprung up coast to coast and around the world. And many are interested in pushing the cupcake envelope, creating ever more beautiful and decadent miniature cake creations, to delight fans everywhere. With the rising popularity of cupcakes, we also have seen more and more couples opting to serve cupcakes, rather than wedding cake, at their big event? Why? Couples cite different reasons. Some just really, really love the cuteness and convenience of cupcakes. Others love all of the different varieties of cupcakes out there, and appreciate that they can serve lots of variety to their guests. Still others cite cost: although the gap is closing, serving cupcakes can cost less than serving a mammoth, show-stopping cake (especially if the crafty bride DIYs the little treats.) It comes down to personal preference. For some brides, it just isn't a wedding without the big cake. For others, cupcakes may be just the special touch they're looking for.
0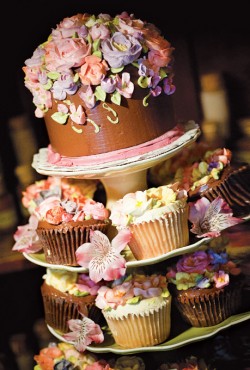 I love the idea of serving cupcakes at a wedding reception.
They're fun and functional. And everyone loves cupcakes!
But what if you want to serve cupcakes but still have a traditional wedding cake to cut too? Simple – serve both!
This is a fun concept – have a small, one tier wedding cake as the "main" cake – basically for the couple to cut – and then surround it by gorgeous cupcakes. Read More
0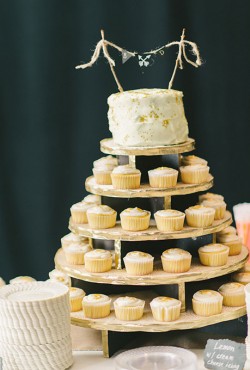 While wedding cupcakes are still a trend some brides really want to stick with tradition and have that wedding cake. But what if you could do both?
That's right – let them eat cake AND cupcakes!
I love the idea of keeping the traditional wedding cake as part of the reception – it is easier to cut a slice of cake than it is to share a cupcake with your new spouse. Read More
0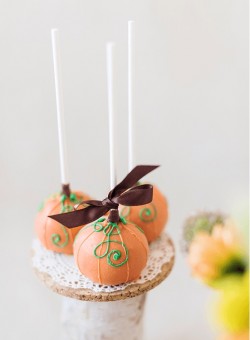 The thermometer might say it is 90 degrees outside but it's September and that means it is fall! Or at least it means I'm wishing it felt like fall.
And fall means pumpkins! I'm talking pumpkin spice lattes, pumpkin pies, pumpkin decorations.
Which brings us to today's fun wedding favor – little pumpkin shaped brownie pops. Read More
0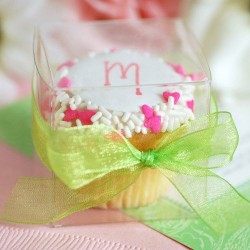 It's no secret that I'm a big fan of edible wedding favors, and that's especially true when we're talking about mini cupcakes.
Sure, a full-size cupcake is awesome…but when you're serving wedding cake to your guests it's probably a better idea to think about mini cupcakes if you're going with an edible favor.
These mini cupcakes come in your choice of vanilla or chocolate cake and can be decorated with your choice of sprinkles Read More
0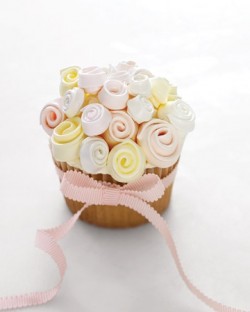 It's been a while since we featured any cupcakes, so I thought it was time to find a fun and festive wedding cupcake to share.
I have to say this bouquet-inspired cupcake is almost too pretty to eat. Almost.
The cupcake would be ideal at a smaller wedding reception, or even as an accompaniment to your full-size wedding cake. It would be a great wedding favor for your guests to take home too – packaged in "take home" containers. So cute. Read More
0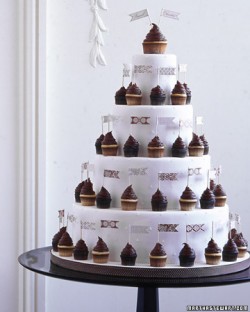 Sure, cupcakes were all the rage for weddings in 2013 and that trend is likely to continue this year.
But if you're looking for something that goes beyond "just cupcakes" why not consider serving a wedding cake and cupcakes! That's right – it's the best of both worlds.
I saw this whimsical idea here and just had to share it with you because it's really brilliant. Read More
0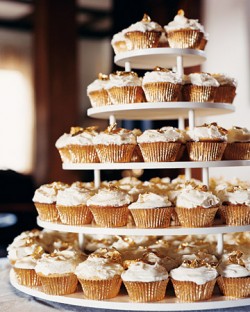 I absolutely love cupcakes and had they been the "in" thing all those eons ago when I tied the knot, I would have totally served cupcakes at my wedding.
And these golden cupcakes would have been at the top of my list of favorites!
The cupcakes are carrot cake – which isn't everyone's cup of tea, I know – but I'm sure you could adjust the cake flavor to something you liked if you aren't a fan of cakes made from carrots. Read More
0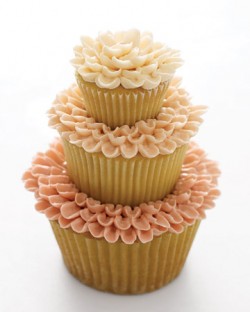 I have a friend who ADORES cupcakes.  No.  You don't even understand.  Like, she's making a living (in part) reporting on cupcakes in a certain corner of the world…and people love her!  (Well.  She is pretty lovable.)
Anyhoo…said friend…let's call her Bea…eloped, and didn't have a wedding cake.  She and hubby love exactly how they did things, and couldn't have been happier with the arrangement.  Still, I have a feeling that when she gets a load of this three-tiered cupcake, there's gonna be some retro wedding cake reenactment celebration stuff going on.
Because, seriously.  It's three tiers. On a cupcake.  Omistars, y'all!
Okeey…so logistically, this would be a nightmare.  Buttercream overload, and I, for one, am such a klutz that I would no doubt topple it over on the new dress I just bought to wear to this function. But in my fantasy life, this is just…wedding cupcake perfection.  'Cause everybody gets their own TIERS.  And nobody has to share.
Once again, we have the brilliant staff at Martha Stewart to thank for this inspiration.  Are you inspired, indeed, to do this?  'Cause if so, I TOTALLY wanna see the pics. (And click on the link in the Source for the recipe and the DIY directions.)