Wedding Cupcakes
Cupcakes. Yum! Wedding Cupcakes. Yum and adorable! Unless you've been living under a rock, then you are aware that cupcakes became hot a few years back, and seem to be here to stay. Cupcake bakeries – cupcakeries – have sprung up coast to coast and around the world. And many are interested in pushing the cupcake envelope, creating ever more beautiful and decadent miniature cake creations, to delight fans everywhere. With the rising popularity of cupcakes, we also have seen more and more couples opting to serve cupcakes, rather than wedding cake, at their big event? Why? Couples cite different reasons. Some just really, really love the cuteness and convenience of cupcakes. Others love all of the different varieties of cupcakes out there, and appreciate that they can serve lots of variety to their guests. Still others cite cost: although the gap is closing, serving cupcakes can cost less than serving a mammoth, show-stopping cake (especially if the crafty bride DIYs the little treats.) It comes down to personal preference. For some brides, it just isn't a wedding without the big cake. For others, cupcakes may be just the special touch they're looking for.
0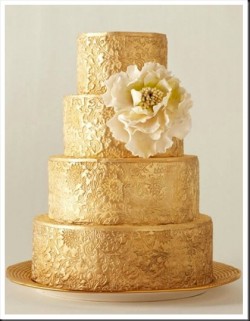 It's 2012 and it's time to start saying "that was sooo 2011″ about everything that we had to have eleven days ago but now is soo not cool.
What was hot in 2011 and (I think) is going to make a strong presence again in 2012 is gold. Gold, gold, gold. I love it. So I decided that for a little hump day treat I would feature some of my favorite gold cakes that have been clogging up my Pinterest file.
Until recently gold got a bad rap. I blame the 80's and gold lame' dresses (I had one..and matching black shoes with a gold lame' bow)  They were Sam & Libby.  Don't hate. Now Read More
0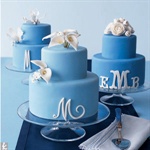 Once or twice..or who am I really kidding here..about fourteen times I've shared my love for all that is monogrammed on AWCB.
So needless to say these adorable blue mini cakes featured here on TheKnot.com.  Seriously?  If Cake Pops are the new Cupcakes Read More
0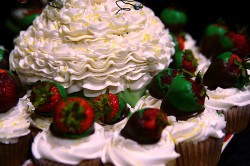 Yum.
Check. it. out. An extra large cupcake is ALWAYS okay with Christen. That's for sure. Pile it high with delicious buttercream icing. Yes please. Oh, what's that you say? You want to surround it with normal sized cupcakes and top them with chocolate covered strawberries?
Thump. That was me hitting the floor Read More
0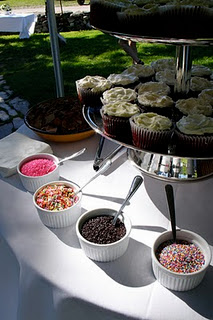 Oh yes.
Most of my friends know by now that I have a vested interest in all things wedding cake. It's not unusual to get a phone call or two from one of my bride-to-be friends asking questions about wedding cakes. The other day I had such a phone call. One of my good friends has a little sister that is getting married. My friend called me up last week and said, "Christen..what do you know about cupcake bars?"
Crickets…crickets.
I knew nothing about cupcake bars. Visions of happiness Read More
0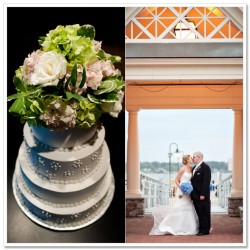 Run a half marathon to celebrate a certain milestone birthday:  Check.
Party like a rockstar for the week after said half marathon, and even eat a donut:  Check.
Contemplate a cupcake, but don't commit, and walk away:  Check, check.
Y'all will be happy to know that I successfully participated in (saying that I competed would just Read More
3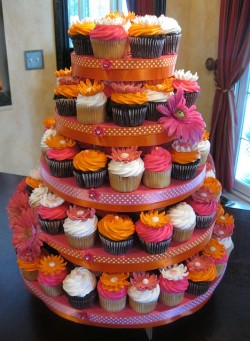 Like I could resist that much rhymability when we're talking about something this. So. Darn. Adorable.
I don't know what in the world it's doing where you are, but here, it's raining raining raining.  And while I'm not complaining – exactly – it's always nice to see something like this, something Read More
0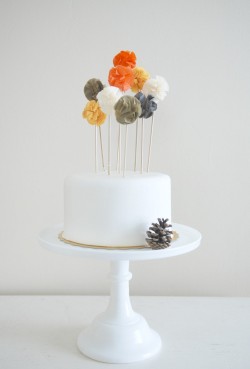 **I know I usually do Cake Topper Friday..but these Cake Poms kind of rock my face so hard that they had to be shown on a Thursday**
Cake Poms make me happy.  For real.
In particular these Cake Poms make me happy.  Perhaps this is from my days as a cheerleader and anything "pom" related makes me want to shake what my momma gave me to old school jams like Achy Break Heart and Down With O.P.P. Highly inappropriate for elementary school girls by the way.  These poms aren't Bulldog Green and White…but they could be if you wanted.  Made by Potter and Butler out of Portland, Oregon, these Read More
2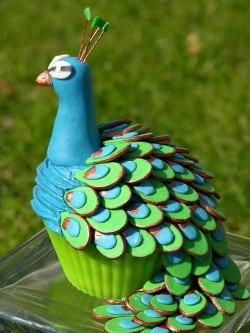 This is one of the the fanciest cupcake that I have ever laid my eyes upon.  I can't even imagine the work that went into this.  The amount of time it would take to make a slew of these for a wedding might be a little bit insane…however, I could totally see it as a big cupcake for the top of a cupcake tower…can't you?  Or maybe even a few of these peacock cupcakes amongst a bunch of teal cupcakes, like the one that makes up the body.
Either way I found this cupcake on Pinterest and I knew it must be blogged about.  The Read More
0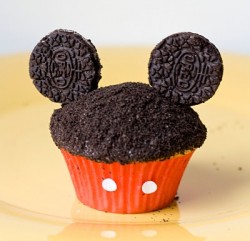 In case you didn't know Walt Disney World's Magic Kingdom Park celebrated its 40th birthday on Saturday, October 1st.  It's no secret that we kind of sort of LOVE Disney World around here.  While I couldn't be there to celebrate I sat at home and threw dirty looks in the direction of all the tweets I was reading from friends who were visiting the parks that day.  I decided to honor the most magical place on earth in my own little way… Read More
3
Okay.
So, I know that we're all about the Sweet, the Pretty, the Happy Endings around here.  And Happy and Hope are what make the world go 'round, and keep spinning.  But I can't, I just can't, have that date in my title, without at least acknowledging that on this date, ten years ago, many people lost their lives in a tragic, senseless, pre-meditated way.  And even though I am doing my best today to bring a little lightness to the world, I can't ignore Read More