Wedding Cupcakes
Cupcakes. Yum! Wedding Cupcakes. Yum and adorable! Unless you've been living under a rock, then you are aware that cupcakes became hot a few years back, and seem to be here to stay. Cupcake bakeries – cupcakeries – have sprung up coast to coast and around the world. And many are interested in pushing the cupcake envelope, creating ever more beautiful and decadent miniature cake creations, to delight fans everywhere. With the rising popularity of cupcakes, we also have seen more and more couples opting to serve cupcakes, rather than wedding cake, at their big event? Why? Couples cite different reasons. Some just really, really love the cuteness and convenience of cupcakes. Others love all of the different varieties of cupcakes out there, and appreciate that they can serve lots of variety to their guests. Still others cite cost: although the gap is closing, serving cupcakes can cost less than serving a mammoth, show-stopping cake (especially if the crafty bride DIYs the little treats.) It comes down to personal preference. For some brides, it just isn't a wedding without the big cake. For others, cupcakes may be just the special touch they're looking for.
0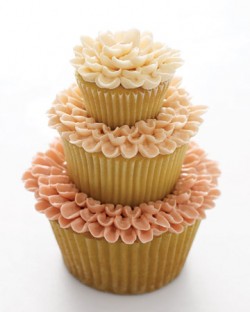 I have a friend who ADORES cupcakes.  No.  You don't even understand.  Like, she's making a living (in part) reporting on cupcakes in a certain corner of the world…and people love her!  (Well.  She is pretty lovable.)
Anyhoo…said friend…let's call her Bea…eloped, and didn't have a wedding cake.  She and hubby love exactly how they did things, and couldn't have been happier with the arrangement.  Still, I have a feeling that when she gets a load of this three-tiered cupcake, there's gonna be some retro wedding cake reenactment celebration stuff going on.
Because, seriously.  It's three tiers. On a cupcake.  Omistars, y'all!
Okeey…so logistically, this would be a nightmare.  Buttercream overload, and I, for one, am such a klutz that I would no doubt topple it over on the new dress I just bought to wear to this function. But in my fantasy life, this is just…wedding cupcake perfection.  'Cause everybody gets their own TIERS.  And nobody has to share.
Once again, we have the brilliant staff at Martha Stewart to thank for this inspiration.  Are you inspired, indeed, to do this?  'Cause if so, I TOTALLY wanna see the pics. (And click on the link in the Source for the recipe and the DIY directions.)
0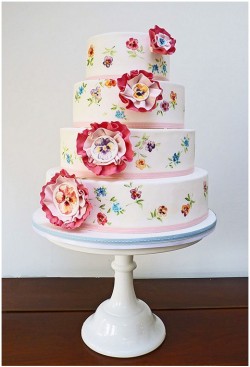 Hello, hello!  How are you this very fine Sunday?  I'm swell, and happy that it's the weekend.
How is the weather in your neck of the woods?  Cool and crisp?  Well…lucky YOU.  'Cause we are totally sweltering here in the southeast.  It happens this way every year, but it's always so tiring…watching everyone else's mercury plummet while ours holds steady.  But in just a few weeks, it will be the dry season…or what we call in Florida…bliss.
Isn't this just the BEST time for weddings, though?  Rich foods, rich colors, and that excitement that just Read More
0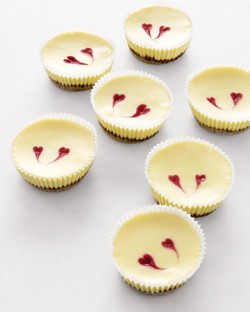 Aren't these darling?
You know, you think you've seen one cupcake, and you've seen them all.  Sher, the frosting colors change.  But the basic set up doesn't.  You have cake, you have frosting, voila.  Here's your cupcake.
But how awesomely awesome is this?  Cheesecake…instead of cupcakes.  Cheesecake as cupcakes.  And the precious little jam hearts baked right in make these uber perfect for any wedding – formal, casual, or anything in between.
Once again, it takes Read More
2
I haven't bumped into many people who say they don't like cake.  But apparently, they are out there.  And in the past, People Who Don't Like Cake would grin and bear their secret loathing (or their apathy…but that doesn't sound very dramatic) when it came to their wedding.  After all, you MUST have a ginormous wedding cake at your wedding, yes?  A towering confection, an architectural wonder, made with more butter and eggs and sugar than you've eaten EVER?
Well, if you are among the People Who Don't Like Cake, have I got news for you.  Time to come out of the cake closet and rejoice in your new found freedom, because you don't have to serve cake at your wedding. Well, not the big giant white white white kind, anyway.  You can – gasp! – serve what you'd like.
In the past ten years or so, couples have begun to question Read More
0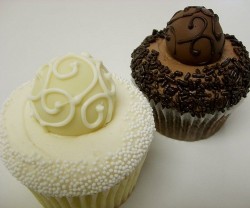 What could possibly be better than bride and groom cupcakes?  Why, bride and groom cupcakes topped with TRUFFLES, of course!
This pic is equal parts "Duh, why didn't I think of that?" and "AWESOMENESS!"  Beautiful his and hers cupcakes, each topped with Read More
0
How about some late love on this lovely Thursday?
Sure, the day has kicked my fanny, and I'm just posting.  So I thought I'd extend myself a little chocolate grace.  So here is a cupcake. For you.  And for me.
Isn't this lovely?  And get a load of the ab fab flav – it's a chocolate chili cupcake with Mexican hot chocolate buttercream.  ¡Ay, caramba!
And as if that weren't enough, the fondant placket on top shows Read More
0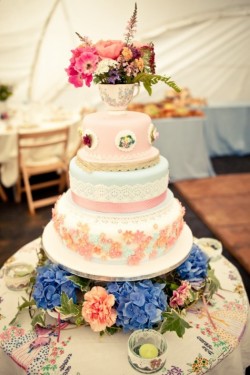 Greetings and salutations!
I have a question for you:  why, oh why, does it take going back to school for kiddoes to make life suddenly make sense and seem orderly again?  I think that's hitting the nail on the head.  It's a sense of order.  A sense of order that my household has been sorely lacking since the Great Homeschool Experiment of '11.
Homeschooling parents?  God bless 'em.  We found out that a) this career girl may not be cut out for that kinda thing; b) my daughter may not be, either.  So maybe we'll revisit in a few years.  Or maybe not.  You don't know until you try it, and for now, we're gonna throw the towel in.
What does this have to do with weddings?  Oh, Read More
0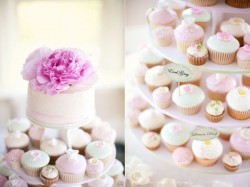 Love. This.
Normally, I would split these pics up, but I A) wanted you to see the general, and then the detail, and B) didn't want to mess with the photographer's watermark.  K.  Technical discolosure complete.  Let's gush.
Isn't this gorgeous?  I mean, you Read More
0
Hi Y'all!
How's the week treating you?  Well, I hope.  We continue to do just fine here, as our calendar of visits with friends stays filled up.  We're having a glorious summer here in Florida, and we hope that you are, too.
Let's get to sharing with you all we've spied with our little eye this week.  But before that, let's review the beautiful cakes we've featured on A Wedding Cake Blog. Read More