formal wedding cakes
1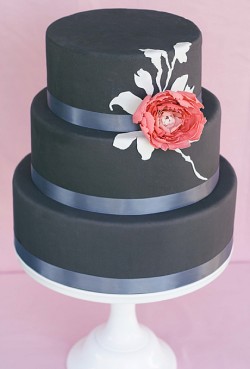 There's always drama during a wedding – whether it's the caterer, the limo, or something else entirely, drama of some sort is a guarantee on your big day.
Heck, they even make reality shows about it.
But what if the drama came in the form of something sweet and gorgeous – like this wedding cake with black fondant.
Look at this beauty! How often have you seen a black wedding cake? Sure we've featured black and white cakes here in the past, but nothing like this stunner. Read More
Other Posts You May Enjoy:
1
It's well documented:  I love white wedding cakes, and I love monograms.
I think it takes a special baker to make something truly original out of the sea of white wedding cakes that I view everyday.  So when I spy something out of the norm, I really like to share it with you.
This is so pretty, don't you think?  In an austere, regal, slightly stand offish and reserved kinda way.  This cake doesn't associate with the other cakes.  This lovely creation is reserved for Read More
Other Posts You May Enjoy: