pale pink wedding cakes
0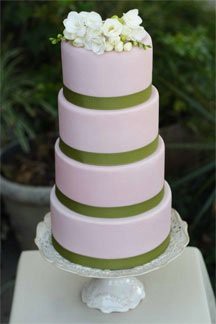 My girl crush on Erica O'Brien was documented here (and here and here) long ago.  So you will not be surprised to find out that, as I was getting my feet wet on Pinterest today (I know…where have I been??), one of the first cakes I pinned, without even knowing it, was one of Erica's pretty cakes.
Oh, there is just something about the way she works!  Everything is so clean and uncluttered, so original and crisp.  When I went to research this cake, I of course found three more that I love LOVED.  Look for those over the next few months.
This gem is palest pink with an earthy, silvery sage green ribbon Read More
0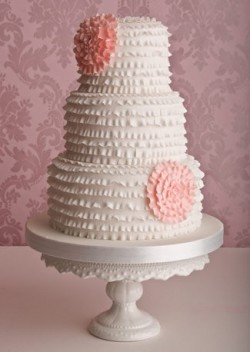 I'm a bit ruffle obsessed. That's for certain. Add a little bit of light pink in the shape of a ruffly flower and I am dead from sheer girly indulgence.
Okay, so I know ruffles are NOT for everyone. I learned this the hard way when in Second Grade I wore a Ruffly Pink Flower Girl Dress to school just about every other day for three months. My mother "sent it away to be dry-cleaned" for about six weeks…ahem. By the time it came back it was the dead of winter and even my love for ruffles could not conquer my cold knees. True story, I wore it for my 2nd grade class picture…I should find it and scan it on here so you'll believe me.
This cake is all the girly goodness that my Pink Ruffle Dress once was. A three tiered stacked round cake covered in flawless white fondant and adorned with row after row of fondant ruffles. The time and the precision this bad boy must have taken are unimaginable