Pink wedding cakes
Pink is one of the most beloved colors of brides everywhere. Few colors send the message of sweetness and romance better than pink. Feminine and just plain pretty, brides love it. Yet, hues of this blushing color run the gamut, from the palest, almost white pink, to super-sassy hot pink – and all the variations can be featured in a variety of ways to make your wedding cake truly sensational.
Are you the type of bride that simply cannot get enough pink? Then consider enrobing your entire cake in pink fondant or buttercream. A pink wedding cake will usher in an elegant vibe to your reception, and will let your guests know that you are inspired by classic, understated beauty.
On the other hand, you might prefer the bold, fresh look of hot pink. While a pale pink cake would be beautifully trimmed with white piped icing, or accented with a soft green or right chocolate brown, an exciting hot pink cake would work well with black as an accent color. Or a snazzy, eye-catching color combination, like green and pink or orange and pink, might just be the thing for you.
Is too much pink too much? Then you might prefer pink as an accent on a cake that is otherwise all one color. Consider pink ruffles piped in buttercream around the base of your cake, or a pink bubble or pearl treatment all over the layers. If you like the bold colors, like fuchsia or magenta, fondant cutouts might be the way to go. A stunning cake might feature the latest technique of applying a damask pattern to a white cake in the shade of pink that you favor. A pink and black or brown monogram together with a fondant ribbon would serve to "wrap" your cake up as pretty as any wedding present.
Some couples prefer to leave the color off of the cake, opting for the traditional white or ivory wedding cake. If this is more your style, but you would still like to add a splash of color, consider getting creative with flowers or fruit. Pink flowers can enhance any wedding cake with grace and beauty. Popular choices include roses, peonies, lilies, orchids, and gerbera daisies. Another option would be to discuss with your cake artist the possibility of trimming your cake with fruit – but not real fruit; rather, fruits and leaves made out of gumpaste or marzipan. A number of fruits, from apples, to cherries, to raspberries, could be tinted with various shades of pink for a lovely effect.
If you love pink, then consider using it to decorate that centerpiece of your reception, your wedding cake. Whether you use a little or a lot of this color as you design your cake, you are sure to convey the romance of the day, even as you provide a delicious treat for your guests.
0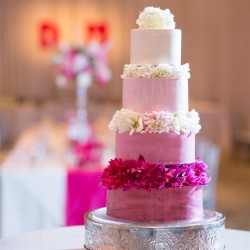 Valentine's Day 2013 may be behind us, but I thought we could still use a little blush o' love.  What do you think?
Ombre has been Read More
Other Posts You May Enjoy:
0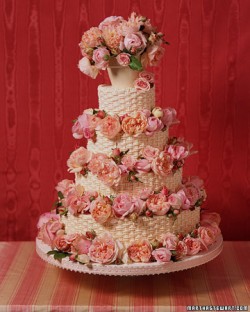 I can't help it. Blame it on living in the mild-weather southeast, but once Christmas is over, I'm on to summer and beach outings. This beautiful wedding cake, with its basket weave motif and full blown roses, shouts "Summer!" to me.
But it could also be shouting Read More
Other Posts You May Enjoy:
0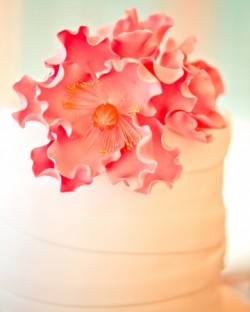 Sometimes in January, you just need a little color, yes? A reminder that spring will come again, and fun summer times will be on her heels.
I adore peonies. And from the looks of this Pink Peony Wedding Cake, this lovely White Wedding Cake with a big, flouncy pink peonies, and this Thai-inspired Wedding Cake with a gold-tinged peony, cake artists quite agree.
But today's Read More
Other Posts You May Enjoy:
0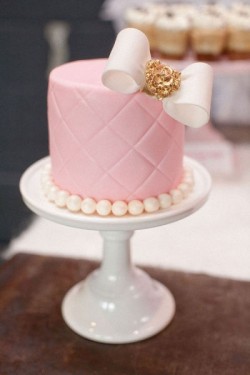 I just found my new favorite wedding.  Well, for today, anyway.
This one is adorably quirky, and brings in elements of both the bride's and groom's heritages — which, I'm guessing, were Asian and Russian, respectively. My favorite touches?  The ab Read More
Other Posts You May Enjoy:
0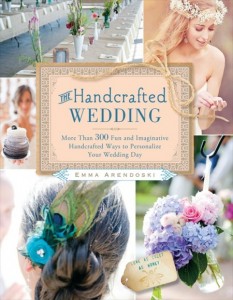 Hello Hello, my dear readers!  I hope you are having a fantastically fantastic day!  And I hope that threats of gargantuan storms aren't freaking you out too badly this weekend.
We bid adieu to Sandy here without too many worries…just a little wind and rain.  I sincerely hope and pray that all the weather folk out there are dead wrong, and that Sandy dissipates into the chilly Atlantic without so much as a whimper.  Hey – it could happen.
So, beyond weather, we have a Read More
Other Posts You May Enjoy:
0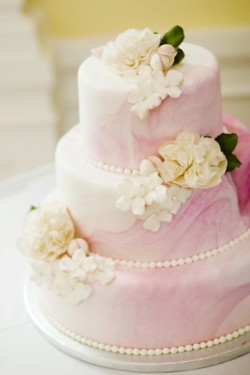 It happens.
As you can imagine, I spend a wee bit of time looking at wedding cakes.  (Okay.  A LOT of time.)  And every once in a while, I find one, and save it, and "ooh" and "ahh" over it…but sorta kinda forget to, you know, note where it came from.
Enter this beautiful cake.
I love LOVE this marbleized technique. And whether it's achieved with fondant or modeling chocolate, I think it's just so cool.  That's obviously what I thought when I saw this one, except I must have gotten so excited that I didn't credit it.
I can't really make out some of the flowers, but I believe the smaller ones are dogwood blossoms, some of my springtime favorites.  And the simple piped beading is a nice finish.
So please, feel free to let me know if you know who baked this lovely cake, because I just HAD to show it to you.  But I certainly love to give credit where it's due.  I'd really enjoy seeing more of their work, or hearing the story behind this one.
Other Posts You May Enjoy:
0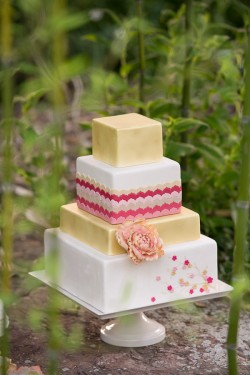 Erica of  Erica O'Brien Cake Design takes us in a decidedly unexpected direction with today's Thai-inspired cake.
I have seen some really beautiful cakes that pull from Asian inspiration, but most of the time, they featured deep, bright colors. But with this cake, which was featured in a stylized shoot, we see beautiful Thai design elements approached with the light, deft touch of pastel.  And it works beautifully.  I absolutely love the stacked fondant Thai arches, and the way that Erica alternates a couple of gold layers into the mix.  And the sweet flower blossoms, as well as the gold-tinged peony, are breathtaking.  She even plays with Read More
Other Posts You May Enjoy:
0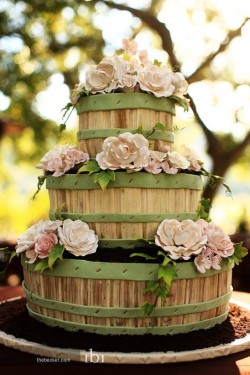 I wanted to feature a cake today that was sort of an homage to summer's last big hurrah.  After all, it's still summer. It's too hot to call it fall yet, and besides, we haven't hit the equinox.

So what signals the end of summer better than gathering an overgrown bounty?  This Flower Basket Wedding Cake was the perfect fit.
Look closely, because those baskets are, in fact, cakes.  The sugar paste flowers appear to be the star of the show when really, they're just garnish.
Isn't the detail Read More
Other Posts You May Enjoy:
0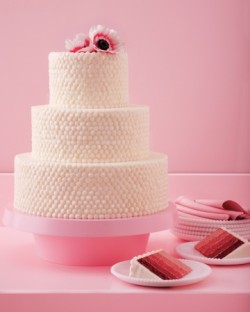 From the pages of Martha Stewart, we find this new take on a much loved classic, Red Velvet Cake.
Everybody knows that the BEST red velvet cakes must be covered in a thick layer of cream cheese frosting, right?  I mean, you do know that?  Well, that doesn't leave a lot of wiggle room for creativity on the outside of your cake…so this baker, Francina Stewart of One Girl Cookies in Brooklyn, took to the inside to set her cake apart.  The outside is covered with Read More
Other Posts You May Enjoy:
0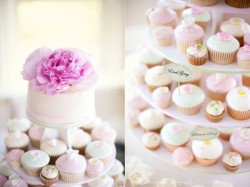 Love. This.
Normally, I would split these pics up, but I A) wanted you to see the general, and then the detail, and B) didn't want to mess with the photographer's watermark.  K.  Technical discolosure complete.  Let's gush.
Isn't this gorgeous?  I mean, you Read More
Other Posts You May Enjoy: