Themed Wedding Cakes
A themed wedding cake may be just what you're looking for to set your cake and reception apart. While a themed cake would be a natural fit for a wedding that also invokes a theme – say an "Alice in Wonderland" wedding, or a renaissance wedding – a bride and groom may also choose a theme for their cake based upon the a favorite amusement park ride or a preferred hobby, a favorite location, or a season or holiday. For the couple enjoys the daring fun of an amusement park ride, we've seen cakes that immortalize attractions like Disney's Splash Mountain – fun! Likewise, the bicycling-enthusiast couple might prefer a cake that shows a mountain bike ride. Less specific would be the couple who incorporate images and items from the ocean into a beach cake, which might include gum paste shells and star fish, sand-like or pearly finish, and maybe a sand castle topper. Finally, if your wedding takes place near a beloved holiday or season, like the Fourth of July, or autumn, or Christmas time, consider incorporating themes that echo those holidays or times of the year. A July wedding cake might be decorated with stars and sparklers, while autumn might show off colorful marzipan leaves and chocolate twigs and acorns. Christmas might inspire the use of traditional garnets and greens, or cool and snowy blues and silvers. If there is a theme that you love, consider celebrating it with your wedding cake. It will make your day even more memorable, for both you and your guests.
0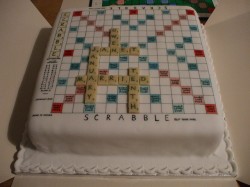 When I was a little girl I had a best friend named Maya. She was one of those people you knew was intimidatingly intelligent just by looking at them..when she was nine. Even though she was the editor of the yearbook and the star of the school play our high school principal once had the wherewithal to tell her she wasn't Read More
0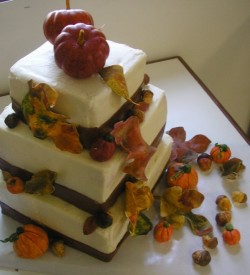 Let's face it. The holidays are over. The tree has come down, the lights have stopped twinkling, the stores are a little less silver and sparkly and that neighbor who won't take down his large inflatable Santa and Rudolf is starting to get on my nerves even though less than two weeks ago I stared out my window at the gorgeous decorations. What we are left with now is Winter. Dead, ugly winter.
What better way to cheer me up than a cake celebrating Read More
2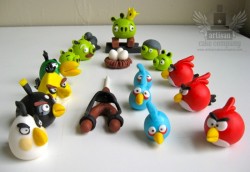 Over Christmas I became an iNerd. And my newest obsession? The Angry Birds. I have become one of those people who is constantly whipping out her iPhone to play this game. Ironically, real life birds are numero uno on the "List of Ridiculous Things Christen is Scared of". Number two, you ask? Hot Dogs.
Anyway…you better believe with my new iNerdom I flipped out when I saw Edible Angry Bird Cake Toppers. Oh yeah, I went there. You can buy the Read More
0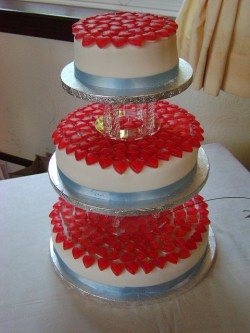 So…I'm pretty sure those are gummy hearts…and if they're not, they should be! I've never considered decorating with gummies, but how awesome is that?!
This is also the Read More
0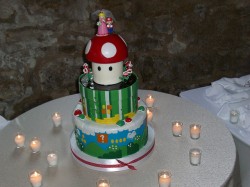 All you 70's and 80's babies are gonna love this one! Pipes, bricks, snap plants, and turtle shells — it's all on this Super Mario Brothers cake!
Of course, you've got Princess Peach and Read More
0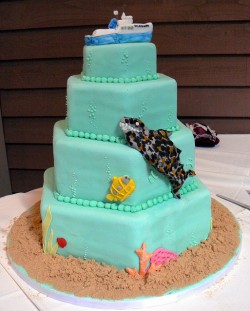 OK, I had to stick with the under the sea theme after those cutie pie scuba diver cake toppers!
This one features a shark and what looks to be either a sunfish…or a yellow submarine! 😉 I really like the ship topper, but I can't get over those little piped bubbles on the side. I think that's a really fresh and Read More