Wedding Cake Toppers
For many wedding cakes it is the topper that makes the cake. Since the topper generally represents the bride and groom themselves in some way they can be the most important part of the cake. These cakes have unusual, beautiful or simply novel toppers that are worth checking out.
0
Happy November, y'all!
Are they playing Christmas carols where you are?  Commercials featuring red and green?  Well…I don't mind so much.  No decorations will be going up for a month or so, and we've got Thanksgiving to look forward to, so we can keep it in check here pretty well.
If you're Read More
Other Posts You May Enjoy:
0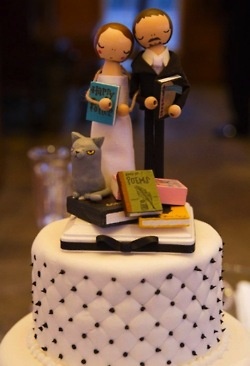 Oh, how I adore this caketopper.
I am a bookworm, you see.  I take books everywhere, and chances are, when I was little, you'd find me curled up reading someplace, rather than outside running around in circles with my peers.  That I'm not a big fan of sweating seems to coordinate with this whole reading preference thing.
But aren't they Read More
Other Posts You May Enjoy:
0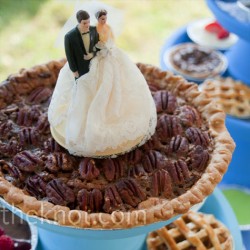 This post is less about the topper and more about what it's on top of.  'Cause it's on top of pie.  Wedding pie, that is.
I love the topper.  I mean, what's not to love?  It's straight out of my parents' wedding.  But what I love more is that it's perched on top of Read More
Other Posts You May Enjoy:
0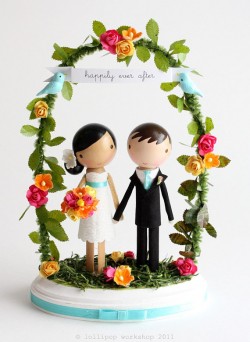 I saw this and I just had to share it with you.  It's precious and sophisticated.  I don't know how it's both, but it is.
The bride and groom with their sweet little painted hairstyles, holding hands, personify serenity, and really, don't you need a little serenity on your big day?  It's clear that the couple's wedding colors have been worked into the little outfits, as well as the bluebirds who are holding the banner.  And with a scroll that says "happily ever after" above their little heads…of course they are!
To view more of this whimsical (and custom!) works of art, please visit Lollipop Workshop's website.
Other Posts You May Enjoy:
0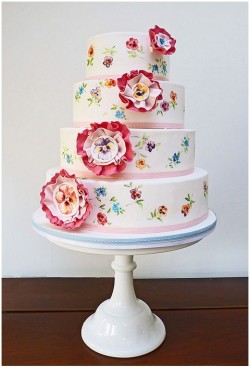 Hello, hello!  How are you this very fine Sunday?  I'm swell, and happy that it's the weekend.
How is the weather in your neck of the woods?  Cool and crisp?  Well…lucky YOU.  'Cause we are totally sweltering here in the southeast.  It happens this way every year, but it's always so tiring…watching everyone else's mercury plummet while ours holds steady.  But in just a few weeks, it will be the dry season…or what we call in Florida…bliss.
Isn't this just the BEST time for weddings, though?  Rich foods, rich colors, and that excitement that just Read More
Other Posts You May Enjoy:
0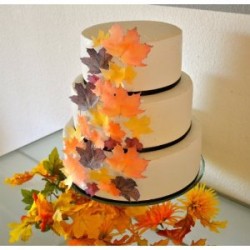 I'm deviating just a teensy bit today.  Rather than showing you something that goes on top of the cake, I'm showing you something that goes…on top…of…well, the cake.  Lemme explain.
I love fall.  And so do you.  I don't know ANYBODY who doesn't.  And I love it so much that I got married during fall.  And what's better than a Read More
Other Posts You May Enjoy:
0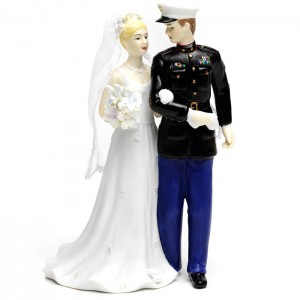 Hiya, Boys and Girls!  And a Happy Sunday to y'all!
What is the electricity that's in the air this time of year??  It's delicious, isn't it?  Football starting up…pumpkins and autumn harvests showing up in the stores…and that not-as-hot-as-hot feeling comes to the South.  I love fall, y'all.
So while I'm spending this weekend enjoying football and contemplating pulling out the fall decorations, I'm loving life.  There are Read More
Other Posts You May Enjoy:
0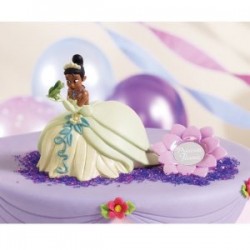 I'm not sure what statement this makes about the bride, or the groom, but I'm gonna go with it.  Because it's cute.
How many Disney fans do we have out there?  I just loved Disney's The Princess and the Frog. The music and story were darling, and the animation was beautiful.
Now, I'm not sure I'd Read More
Other Posts You May Enjoy:
0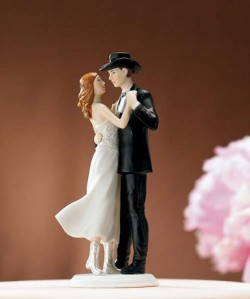 Are you marrying a cowboy?  Then you most certainly need this sweet western waltz cake topper.
Sure, being romanced by a cowboy is something right out of a Harlequin novel in my world.  But it happens!  I see a lot of lovely wedding pics from all kinds of places in my line of work, and some of the most moving are the ones that feature big ole hats on the fellas and beautiful boots under those demure skirts.
Wouldn't this Read More
Other Posts You May Enjoy:
0
So I've actually never been on the back of a motorcycle.  Or the front of one, for that matter.  I think they're crazy dangerous and they scare me.  But I still fantasize about being on one.

So I love this bride and groom on a motorcycle cake topper.  About as much as I love the whole Read More
Other Posts You May Enjoy: