Wedding Cake Toppers
For many wedding cakes it is the topper that makes the cake. Since the topper generally represents the bride and groom themselves in some way they can be the most important part of the cake. These cakes have unusual, beautiful or simply novel toppers that are worth checking out.
0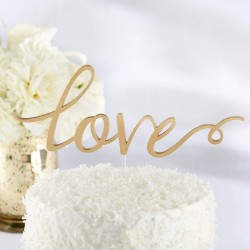 As much as I love showcasing amazing wedding cakes here, I also like to find fun wedding cake toppers – because there are still some cakes that need a topper.
This "love" script cake topper might be a new favorite!
The cake topper is simple, elegant, and sums up your wedding day in just one word: love. Read More
0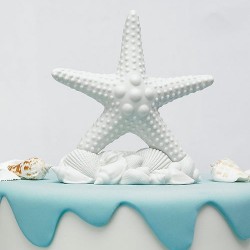 Today is the unofficial start of summer and this means it's time for beach wedding season!
And what better way to celebrate your beach-themed (or beach location) nuptials than with this fun and whimsical starfish wedding cake topper. Read More
0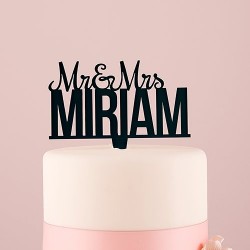 It's been a while since we featured a fun wedding cake topper here so today seems like a good day to do just that!
I'm a big fan of wedding cake toppers – even though it seems that the trend lately is to just put a fresh flower on the top or leave the whole cake naked. Read More
0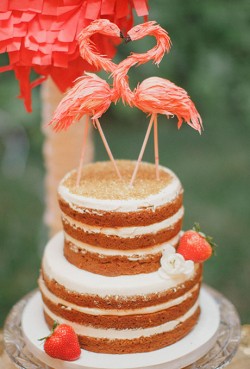 Thanks to the groundhog, it's official – we have six more weeks of winter.
But that doesn't mean we can't start thinking warm and tropical thoughts!
I've had enough snow and cold weather to last until next winter so today I decided to find something fun and warm and beach-y to share – and I found this adorable pink flamingo cake topper!
And while the cake topper looks amazing on the "naked" cake featured here, it would also work on a frosted cake. Read More
0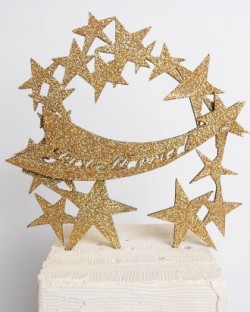 Since we're just a little more than a week away from Christmas I wanted to find something that seemed a bit festive.
I think this gold, sparkly starry cake topper does the job.
I'm a big fan of non-traditional cake toppers and honestly I find the "bride and groom" toppers a tad boring. Sure I had one on my cake but that was all the rage back in the day.
If you can add something totally unique and even personal to your cake, then I say go for it! Read More
0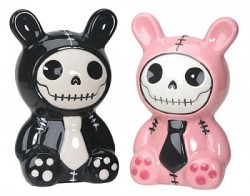 First and most importantly – Happy Halloween!
Since today is the day for ghosts and ghouls and goblins, I thought it was only fitting to showcase a wedding cake topper with a Halloween vibe.
And so, I give you the 'Bun-Bun Skeleton Wedding Cake Topper.' Read More
0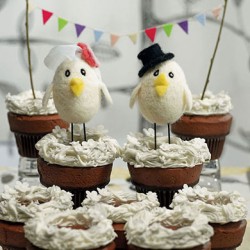 It's been a while since we featured a cake topper, so I wanted to find a cute cake topper for today!
And I think I found it.
For some inexplicable reason I'm drawn to bird cake toppers. I don't know why – I'm not particularly fond of birds as a whole. But every time I see a cute bird cake topper I just have to share it. Read More
0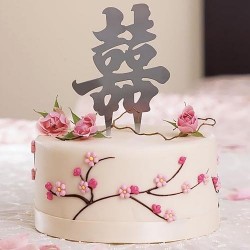 It's been a while since we showcased a cake topper, so today felt like a good day to find that perfect accessory for your wedding cake.
Now we all know that your wedding day is supposed to be the happiest day of your life – so why not showcase that happiness with your cake topper?
Who needs a classic 'bride and groom' cake topper when you can add a bit of international flair to your cake with this "double happiness" cake topper! Read More
0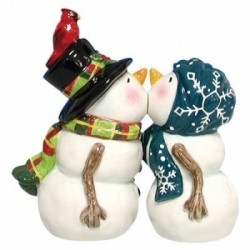 The weather outside is (getting) frightful – at least in the northern half of the country, so this kissing snow people wedding cake topper seems like the perfect item for a cold and blustery winter day.
This cute and frosty couple would be perfect on top of your lovely white wedding cake. They'll fit right in to your winter-themed wedding and as an added bonus, they're also salt and pepper shakers. Read More
0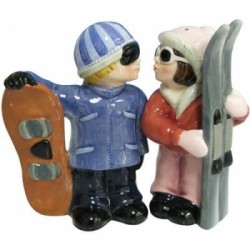 There is snow in the forecast for next week. OK, maybe not where you live, but where I'm located they are talking snow.
So I suppose this means winter is almost here and it's time to start talking about cute winter accessories for your wedding.
Like this adorable couple – the snowboarder and the skier. Read More