Wedding Cake Toppers
For many wedding cakes it is the topper that makes the cake. Since the topper generally represents the bride and groom themselves in some way they can be the most important part of the cake. These cakes have unusual, beautiful or simply novel toppers that are worth checking out.
0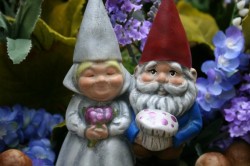 Oh gnome you didn't!
I've been waiting forever to say that.  Well. .at least since last Halloween when I tried to convince my husband to let me dress up our one year old as a garden gnome.  He wouldn't let me–but I had all sorts of giggle-inducing puns ready just in case.  So since my efforts were thwarted back then I get to share them all with you people.  Lucky you.
But seriously…gnome cake toppers?!  I love it.  The certainly aren't just for gardens anymore.  These adorable cake toppers are made by PhenomeGNOME (I think we would get along just fine with our gnome jokes).  You can personalize your gnome by choosing hair, clothing, mushroom, flower, and the base color.  They are hand made and hand painted and just gorgeous to look at.  Of course–if you fancy, they could just sit prettily on your shelves as well.  Who gnomes…it's up to you.
Visit PhenomeGNOMEhere and the lisitng for these gnomes here.
0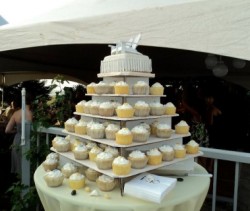 I am in love. I am in love with a group of cupcakes.
Y'all know that I'm a beachy kinda girl, n'est pas?  I mean, give me two spare hours and see if you'll catch me ANYWHERE else.  I will be under the umbrella, swimsuit on, iPod tuned to something mellow, watching the tide ebb and flow.
So it should come as no surprise that I instantly fell in love with this aDORable Read More
0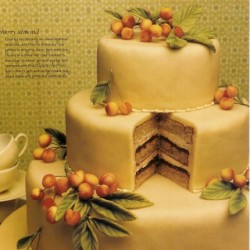 I have a confession:  by and large, I'm not a big fan of wedding cake toppers.  Blame it on my age…but never was I so glad to see an era come to an end, than the one that involved tiny Greek columns and people perched on wedding cakes. 
Nowadays, though, we're seeing all kinds of things atop cakes, from action figures, to bling, back to flowers, forward to bunting, and many, many "humorous" renditions of brides and grooms.  (You know the type…the bride dragging Read More
0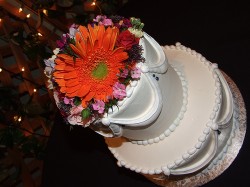 Sometimes you have to stick with a classic.  Like this gorgeous white cake with buttercream icing.  This cake features one of my favorite trends for 2011…the double height tier!  The tiers are decorated with beautiful piped icing in a swag motif.  What really takes this cake from nice to wonderful is that gorgeous flower topper!  On Cake Topper Friday Read More
0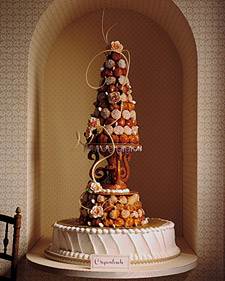 Whew!  Is anyone else dreaming of pumpkin and morning frosts? And jewel toned cakes to replace the summer glaring brightness?
Summer?  I am over you.  It's not your fault, Darling.  After all, I live in Florida, and I can have a taste of you purt near anytime I want.  But the retailers!  They're making me want crisp Read More
0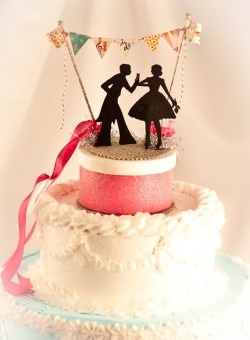 I fell in love with the concept of using a silhouette on cake when I first laid eyes on this cake by Melody Brandon of My Sweet and Saucy. I just adore the use of silhouettes on wedding cakes now and every time I see a new one I get all kinds of excited.
Oh but wait…let's double that excitement by turning it into a cake topper! I'm sorry…I have to say it. How freaking adorable is this topper? Obviously I am in love with the silhouette concept–but add the adorableness of the grooms popping the question and I'm hooked. Check out that big Read More
0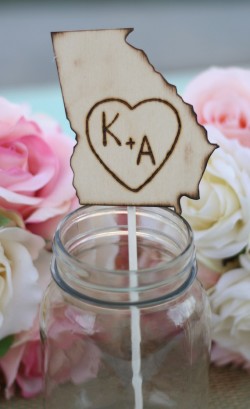 There is something about being from South Carolina that makes people scream with pride. No really–have you driven through South Carolina on I-95 before and seen an annoyingly high amount of Palmetto Tree paraphernalia on the backs of our cars? We might not have the smartest kids (or beauty queens) and we may not have the fanciest buildings but we sure are proud of our beautiful beaches and the illustrious Palmetto Tree.
That's why when I saw this cake topper by Braggin' BagsI knew it was my next feature for Cake Topper Friday. Now I know this picture is of Georgia, our friendly neighbor to the south, but you can pick any of the continental United States when you purchase your cake topper. These toppers are made from wood and Read More
0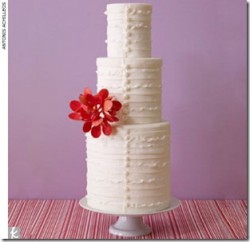 So seven months into 2011 I think it's time we talk trends baby. Cake trends that is. Because let's face it..I am always behind on clothing trends. I try so hard but oh my goodness how do I love a pony-tail and cardigans..I am so boring that way.  However, cake trends?  I think I got it.
Since I've been blogging about wedding cakes five days a week for the last seven months I have begun to take notice of the good, the awesome, and the coveted of wedding cake designs. There are lots of fun options that you can do with your wedding cake. 2011 has definitely been a wedding season of sweet, pretty, and creative. Here are just a few things that I am digging as we make our way into the last five months of 2011.
Double It Up
The Double Height Tier is probably my favorite trend this year.  It's a pretty simple concept: take a simple three-tier round cake and add height to one of the tiers.  It gives the cake height and an asymmetrical quality that takes it from a normal cake to a spectacular one.   Traditionally a cake tier is anywhere from 3-4 inches tall.  To achieve the double height the baker simply adds Read More
0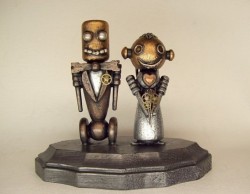 Domo arigato Mr. Roboto.  Thank you very much oh Mr. Roboto for bringing me this cake topper when I needed it.
Yes!  Robot Cake Toppers!  I've got to admit…I've making an effort to step outside of the box on Cake Topper Friday and I am loving what I am finding.  Because in all honesty a girl can only feature a Read More