Wedding Cake Toppers
For many wedding cakes it is the topper that makes the cake. Since the topper generally represents the bride and groom themselves in some way they can be the most important part of the cake. These cakes have unusual, beautiful or simply novel toppers that are worth checking out.
0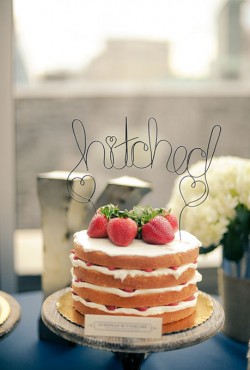 Happy Leap Day!
I wanted to find something unique for today – since we only get to celebrate Leap Day every four years.
I think this wire "Hitched" cake topper is the perfect unique thing. I love this cake topper.
It's more fun than the standard "Mr. & Mrs." cake toppers I've seen and it'll add a bit of whimsy to your wedding cake. Read More
0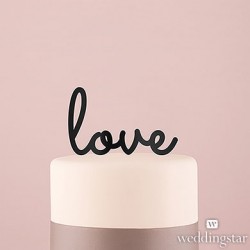 All you need is love.
And all your wedding cake needs is this script 'love' cake topper.
It's simple and elegant and says it all with just one word.
I love this cake topper because it is so simple and yet it would work on just about any cake design you choose. Read More
0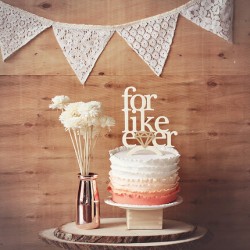 I'm a big fan of fun and unique wedding cake topper, especially if they're a bit sassy.
This "For Like Ever" cake topper that I found on Etsy is absolutely perfect in every way!
The handmade topper features a "diamond ring" as the "v" in the word ever and it would be perfect for the fun-loving couple. Read More
0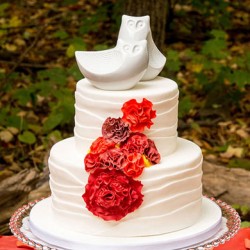 It seems that wedding cake toppers are not always the "in" thing when one is looking at wedding cakes on a daily basis.
Most of the time you'll see cakes with fresh flowers as the topper or nothing at all perched on top of the cake.
But I'm a traditionalist when it comes to wedding cakes (also known as "old fashioned") and I love a good wedding cake topper. Read More
0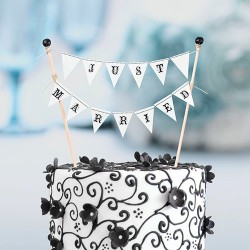 I was at a friend's wedding recently and her cake topper was a simple yet elegant banner.
And I thought to myself how perfect and lovely the banner was. There was nothing over-the-top about it and it fit perfectly with her vintage, shabby chic theme for the reception. Read More
0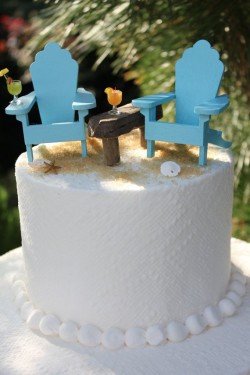 It seems almost official doesn't it?
Summer is just about over. Everything is back-to-school this and that…so it's time to fit in a few more beach-themed cakes and toppers before everything turns to pumpkins and fall.
Which brings me to today's cake topper. I am a huge fan of Adirondack chairs – they grace the deck of my favorite beach house.
And this "Jimmy Buffet" themed cake topper with chairs and miniature tropical drinks is exactly what every beach-themed wedding cake needs!
This cake topper is from Landscapes In Miniature which is a quirky shop on Etsy!
The two chairs with the mini drinks and sea shells would be perfect for your beach-y wedding cake. You can also choose to add two pairs of flip flops to the cake topper design.
You can find these and several other adorable and fun cake toppers on this Etsy page!
0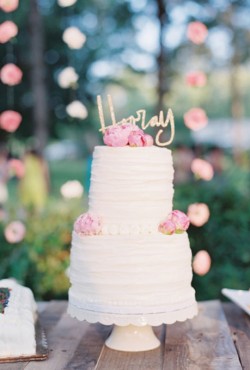 Gone are the days of the 'traditional' bride and groom cake topper. Now it's all about modern and "playful" decor for the top of your wedding cake.
I'm sure gonna miss those porcelain figurines atop a white wedding cake.
But seriously, all joking aside … I really do love seeing fun and whimsical cake topper on wedding cakes. Heck, I'm even a fan of just using fresh blooms to accent the top of your cake.
As long as the cake topper adds beauty to the cake I say go for it! Read More
0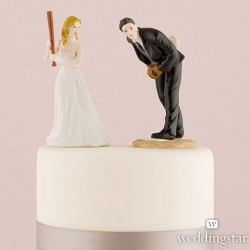 It's summertime which means it's time for that all-American pastime – baseball!
Maybe your groom-to-be is a huge baseball fan? Or maybe you can't get enough of your favorite team?
Either way, this baseball-themed cake topper would be the perfect addition to your wedding cake. Read More
0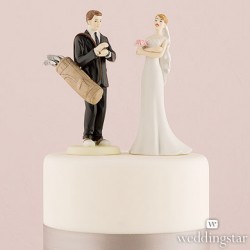 Call me old fashioned (I am!) but I still love seeing a wedding cake with a cake topper representative of the happy couple.
It might be passé to have a cake topper on your wedding cake but personally I think it's fun – especially if that cake topper is perfect.
And if you're groom-to-be just happens to be a golfer and if you are merely tolerating his every weekend game, this is the perfect cake topper for your cake! Read More
0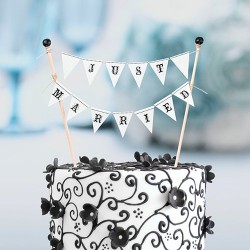 I'm a big fan of fun and whimsical cake toppers which is why this topper caught my eye.
I always thought it would be fun to have a carnival-themed reception and for some reason this banner cake topper seems like it would be perfect for that.
It would also be ideal at a "shabby chic" type reception – something outdoors with lots of twinkling lights and pink and black decor. Read More