Themed Wedding Cakes
A themed wedding cake may be just what you're looking for to set your cake and reception apart. While a themed cake would be a natural fit for a wedding that also invokes a theme – say an "Alice in Wonderland" wedding, or a renaissance wedding – a bride and groom may also choose a theme for their cake based upon the a favorite amusement park ride or a preferred hobby, a favorite location, or a season or holiday. For the couple enjoys the daring fun of an amusement park ride, we've seen cakes that immortalize attractions like Disney's Splash Mountain – fun! Likewise, the bicycling-enthusiast couple might prefer a cake that shows a mountain bike ride. Less specific would be the couple who incorporate images and items from the ocean into a beach cake, which might include gum paste shells and star fish, sand-like or pearly finish, and maybe a sand castle topper. Finally, if your wedding takes place near a beloved holiday or season, like the Fourth of July, or autumn, or Christmas time, consider incorporating themes that echo those holidays or times of the year. A July wedding cake might be decorated with stars and sparklers, while autumn might show off colorful marzipan leaves and chocolate twigs and acorns. Christmas might inspire the use of traditional garnets and greens, or cool and snowy blues and silvers. If there is a theme that you love, consider celebrating it with your wedding cake. It will make your day even more memorable, for both you and your guests.
0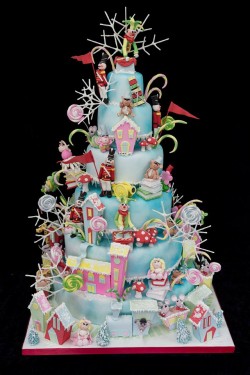 I recently saw someone post on Facebook that there are only 20 Fridays left until Christmas.
And while that seems a little bit crazy, I figured today was as good a day as any to feature this Winter Wonderland wedding cake.
Our good friends at Hockleys Cakes created this whimsical cake for a winter wedding. The cake reflects a "Toytown" theme.
The six tier cake features a blue sky background which enhances the colors of the toys, animals, and buildings that are on display. Read More
0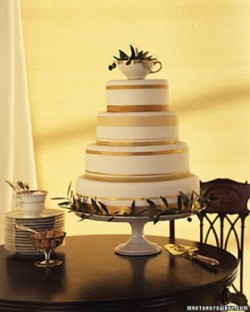 It used to be a tradition for a bride and groom to pick out a china pattern before they married.
Then, guests would purchase items from the china pattern and gift them to the new couple. I was one of those brides who registered for a china pattern. I've used it exactly once in the past 12 years.
But just because choosing a china pattern has fallen out of favor with some modern brides doesn't mean your cake can't be inspired by a china pattern. Read More
0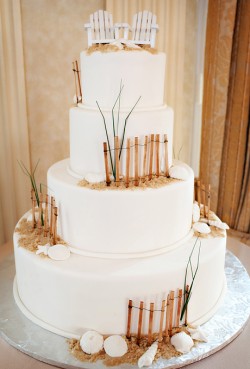 Now that we are officially celebrating all things summer, our thoughts turn to beaches and summer weddings.
Which brings me to today's beach-y wedding cake, complete with adorable mini Adirondak chairs as the cake topper.
I love the stark simplicity of the white fondant icing – it really creates a perfect palette to create lovely cake-scapes.
But what makes this cake perfect for your summer beach wedding are the incredible decorations. Read More
0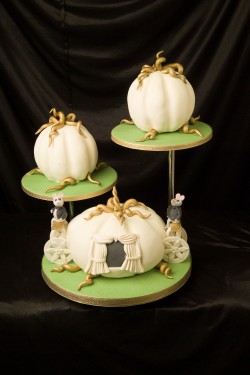 If there's ever a day when you truly feel like a princess, it's your wedding day.
So why not celebrate with a cake fit for a princess?
A cake exactly like this Pumpkin Carriage Cake from our friends at Hockley's Cakes over in the United Kingdom.
I don't know about you, but Cinderella is my favorite princess and this cake is perfect if you're thinking about a wedding with that sort of theme or if you're a fan of Disney princesses. Read More
0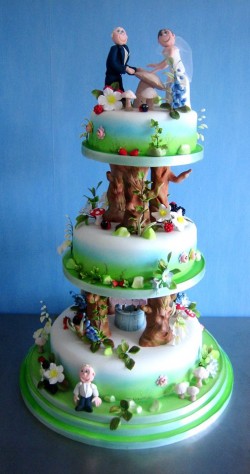 I am going to go out on a limb here and say that spring really is here to stay as we inch closer to April.
With that in mind, I wanted to find a wedding cake that was all about nature and spring-like things. I think this "woodland" wedding cake is that cake.
Our friends at Hockleys Cakes created this one-of-a-kind wedding cake for a bride and groom who "love everything woodland." I am in awe just looking at this cake and taking in all the incredible details.
The cake itself features three tiers – each a different flavor. I love wedding cakes that have a different flavor in each tier, so in my book this cake is already awesome. Read More
0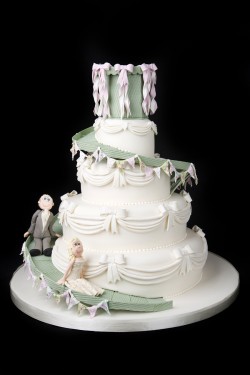 I always enjoying finding cakes that are whimsical and add an element of fun to the wedding reception.
This cake from our friends at Hockleys Cakes is just what I was looking for! It's whimsical, fun, and even has a spring-like look and feel to it.
The four-tier cake was created for a bride and groom who were celebrating their big day at an old stately home, according to Michael Hockley. The couple wanted a "vintage fairgroud" feel to the reception and wanted their cake to fit the bill.
And so, the Helter Skelter cake was created. Read More
0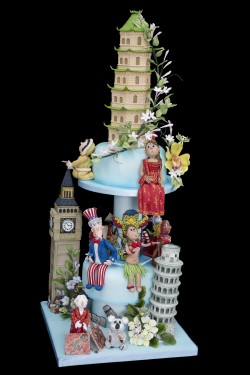 Sometimes you find a wedding cake that just knocks your socks off, and today I'm sharing one of those cakes with you.
This is the "Around the World" wedding cake from our friends Hockleys Cakes in the United Kingdom.
Take a few moments to really look at this creation and the amazing attention to detail. It really is one of the most incredible cakes I've seen. Can you imagine having it as the centerpiece at your reception? Read More
0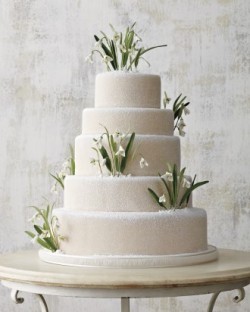 Since there are only a few weeks of winter left I decided we should feature one more winter themed dress before we go all spring-y.
And to that end, I present a white wedding cake with wintery snowdrop flowers that seem to be growing out of the tiers.
Whether you're a fan of winter or not, you have to admit this is a rather spectacular cake.
It's so pretty and elegant and it would be a stunning cake at any winter wedding. Read More
0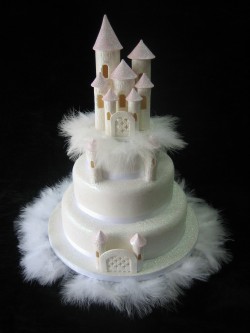 It's quite possible that this wedding cake is the most romantic cake I have ever seen.
Take a moment to look at this gorgeous creation.
Doesn't it just take your breath away?
This castle with feathers cake is another creation from our friends across the pond – Hockleys Cakes. And honestly, it might be my favorite cake of theirs to date. Read More
0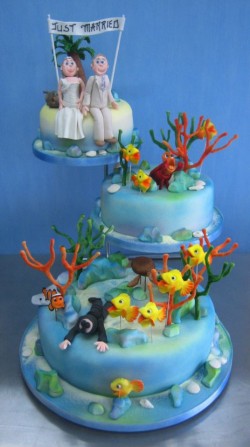 We found Nemo and he's on a wedding cake!
This amazing three-tier novelty wedding cake is a creation from Hockleys Cakes located in the United Kingdom.
They are specialists in the wedding cake biz across the pond and I am loving their designs and can't wait to feature more in the weeks to come.
But right now let's talk about this Nemo wedding cake because it's just amazing!
This novelty wedding cake features an undersea scene complete with Nemo, Crush the totally cool sea turtle, and of course the bride and groom are sitting atop the cake under a palm tree. I think I even spy Sebastian hanging out by the coral in the middle tier! Read More