Themed Wedding Cakes
A themed wedding cake may be just what you're looking for to set your cake and reception apart. While a themed cake would be a natural fit for a wedding that also invokes a theme – say an "Alice in Wonderland" wedding, or a renaissance wedding – a bride and groom may also choose a theme for their cake based upon the a favorite amusement park ride or a preferred hobby, a favorite location, or a season or holiday. For the couple enjoys the daring fun of an amusement park ride, we've seen cakes that immortalize attractions like Disney's Splash Mountain – fun! Likewise, the bicycling-enthusiast couple might prefer a cake that shows a mountain bike ride. Less specific would be the couple who incorporate images and items from the ocean into a beach cake, which might include gum paste shells and star fish, sand-like or pearly finish, and maybe a sand castle topper. Finally, if your wedding takes place near a beloved holiday or season, like the Fourth of July, or autumn, or Christmas time, consider incorporating themes that echo those holidays or times of the year. A July wedding cake might be decorated with stars and sparklers, while autumn might show off colorful marzipan leaves and chocolate twigs and acorns. Christmas might inspire the use of traditional garnets and greens, or cool and snowy blues and silvers. If there is a theme that you love, consider celebrating it with your wedding cake. It will make your day even more memorable, for both you and your guests.
0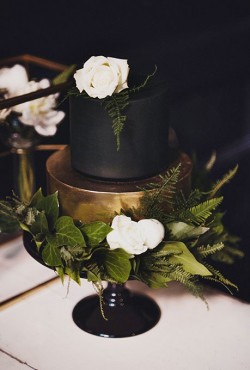 As much as I love the traditional white wedding cake, every now and then it's nice to mix things up and think about non-traditional cakes.
The idea of a black frosted cake might seem odd to some but I think it's a great idea for an elegant winter wedding.
A black and gold cake would be a bit too dramatic in the middle of summer. Read More
0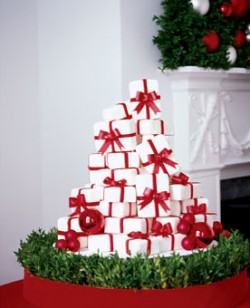 It's beginning to look a lot like Christmas, and if you're lucky enough to be planning a holiday wedding this year (or next) we have a fun idea for a cake!
What if your wedding cake looked like a stack of gorgeous wrapped presents?
That might be the perfect way to tie the holidays into your celebration! Read More
0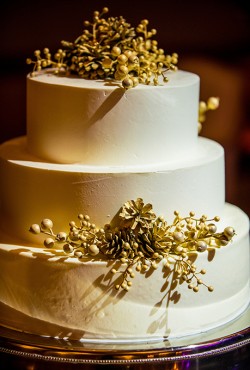 I love this time of year with all the Christmas trees and winter holiday decorations.
Everything is so pretty and festive, so your winter wedding cake should fit into the holiday theme!
Today's featured cake is the perfect winter wedding cake. It features pinecones and berries with a stark white icing as the background. Read More
0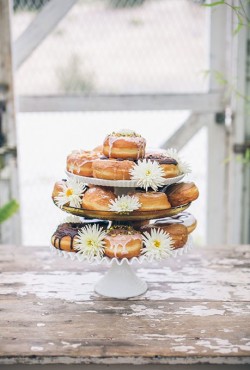 Sometimes I crave doughnuts.
I'm talking about those fresh-from-the-bakery, crispy on the outside doughnuts that make you all warm and fuzzy inside.
And if you love doughnuts as much as I do, it would be so much fun to serve doughnuts as your wedding cake!
Talk about an unexpected cake! Read More
0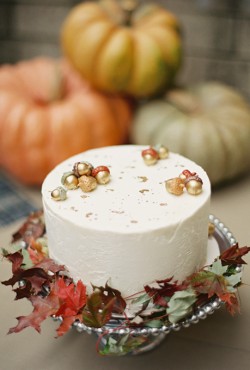 We raked a lot of leaves over the weekend around here. The trees are just past peak color and the leaves are raining down in our yards.
Another thing raining down – acorns!
Which brings us to today's fall-inspired wedding cake featuring colorful fall leaves and acorns.
This one-tier cake practically screams fall … in an elegant and refined manner of course. Read More
0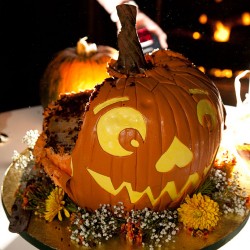 Today is my most favorite holiday of the year – Halloween!
And if you're lucky enough to choose October 31 as your wedding day (oh what fun!) the sky is pretty much the limit when it comes to adding some holiday fun to your reception.
I've seen brides host a costume-party themed reception or use Halloween decor as part of the reception. Read More
0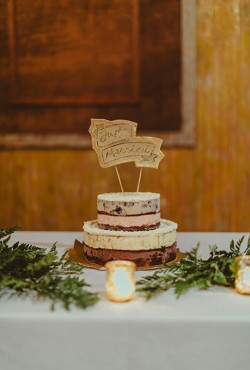 If there's one thing I love more than wedding cake, it has to be ice cream.
So, when I saw this ice cream wedding cake it was as if all my dessert dreams came true!
I love the idea of non-traditional wedding cakes – whether we're talking naked wedding cakes or cakes made out of rounds of cheese. The crazier the better I say. Read More
0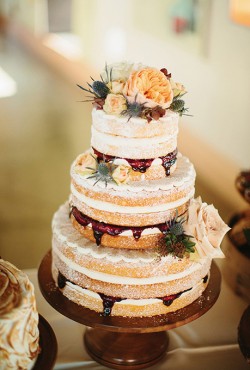 Fall is definitely here and that means it is a perfect time to check out some rustic wedding cakes!
I love the idea of a cake that represents the season of your nuptials and rustic seems to go hand-in-hand with everything fall!
Today's cake happens to be a naked wedding cake – a trend I'm starting to love more and more – and it has a special touch thanks to some jam filling. Read More
0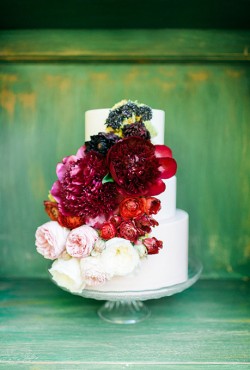 I love everything about fall – even the fact that, where I live fall means you pull out all the summer flowers. This is OK with me because I just replace them with colorful mums!
I love the dark hues of some of the mums and other fall-ish blooms that are perfect for this time of year.
And I also love seeing floral wedding cakes deep in the falls season. Just because the temps are cooler and the leaves are turning doesn't mean you can't add some colorful blooms to your wedding cake! Read More
0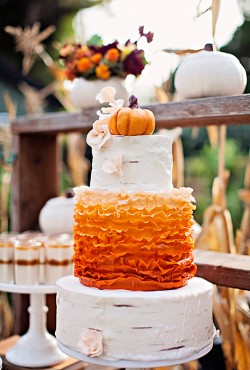 Of the best things about fall is the annual visit to the local pumpkin farm. We get to pick our own pumpkins out in the fields and then it's time to buy pumpkin doughnuts.
There's no denying that the pumpkins are the stars of the season.
And so, if you're planning a fall wedding it only makes sense to add some pumpkins to your decor or even to the dessert table. Read More