Themed Wedding Cakes
A themed wedding cake may be just what you're looking for to set your cake and reception apart. While a themed cake would be a natural fit for a wedding that also invokes a theme – say an "Alice in Wonderland" wedding, or a renaissance wedding – a bride and groom may also choose a theme for their cake based upon the a favorite amusement park ride or a preferred hobby, a favorite location, or a season or holiday. For the couple enjoys the daring fun of an amusement park ride, we've seen cakes that immortalize attractions like Disney's Splash Mountain – fun! Likewise, the bicycling-enthusiast couple might prefer a cake that shows a mountain bike ride. Less specific would be the couple who incorporate images and items from the ocean into a beach cake, which might include gum paste shells and star fish, sand-like or pearly finish, and maybe a sand castle topper. Finally, if your wedding takes place near a beloved holiday or season, like the Fourth of July, or autumn, or Christmas time, consider incorporating themes that echo those holidays or times of the year. A July wedding cake might be decorated with stars and sparklers, while autumn might show off colorful marzipan leaves and chocolate twigs and acorns. Christmas might inspire the use of traditional garnets and greens, or cool and snowy blues and silvers. If there is a theme that you love, consider celebrating it with your wedding cake. It will make your day even more memorable, for both you and your guests.
0
A black wedding cake might not seem like the most traditional wedding cake – but that's why I love the concept!
Imagine the surprise when your guests spot this dramatic and gorgeous black wedding cake at your reception!
I love the rustic look of the icing and the the addition of fall foliage including deep red roses, succulents, and even moss! Read More
0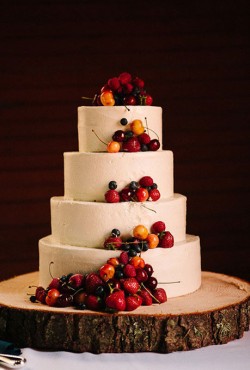 One of my favorite things about mid-to-late summer is the abundance of fresh fruit at my local market. Peaches, plums, cherries, berries, and more.
And I can't think of a better way to showcase all those gorgeous fruits than on a lovely white wedding cake!
People don't often think about using fresh fruits as an embellishment on a cake, but it really is genius. Read More
0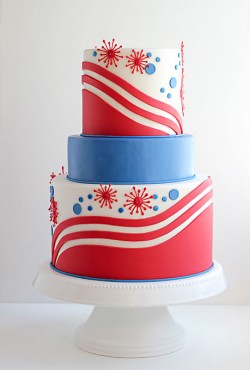 I don't know about you, but I've been glued to the television every night watching Team USA at the 2016 Olympic Games.
So that got me thinking about red, white, and blue wedding cakes – of course! – so my mission today was to find a patriotic-themed cake in honor of Team USA.
I think this cake fits that bill! Read More
0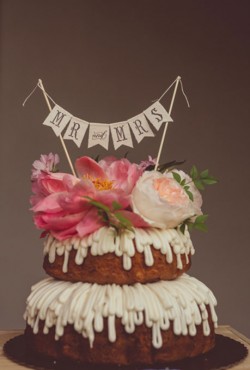 Ah, bundt cakes. The ubiquitous cake of the 1950s and 1960s.
They're so retro that they're cool again – just ask my mom. She loves to bake bundt cakes for family birthdays, complete with homemade chocolate drizzle.
Imagine having a bundt cake as your wedding cake – now that would be cool. Plus, they're basically the original "naked" cake, with only a drizzle of frosting. Read More
0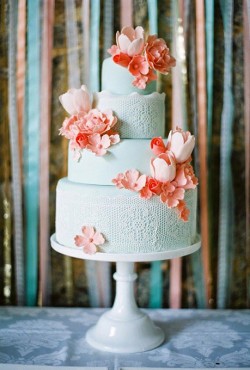 Lace-inspired wedding cakes are a trend I could definitely get behind, especially for summer weddings.
I love the idea of incorporating lace into the design of one's wedding cake.
You could even take a sample of the lace from your wedding dress and have the design appear on your cake. Read More
0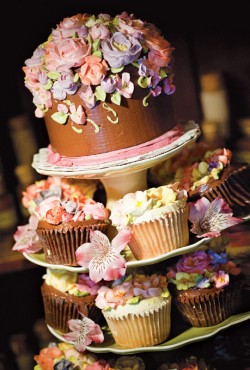 I love the idea of serving cupcakes at a wedding reception.
They're fun and functional. And everyone loves cupcakes!
But what if you want to serve cupcakes but still have a traditional wedding cake to cut too? Simple – serve both!
This is a fun concept – have a small, one tier wedding cake as the "main" cake – basically for the couple to cut – and then surround it by gorgeous cupcakes. Read More
0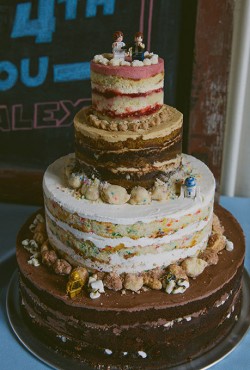 Today I'm showcasing another naked, unfrosted wedding cake simply because it's like nothing I've seen before.
Not only is it part of the whole "naked wedding cake" trend that just keeps hanging on (what do you have against frosting??) but look very closely at the cake.
Do you see what I see?
Yep! That's right! Star Wars Lego figurines.
That. Is. Awesome. Read More
0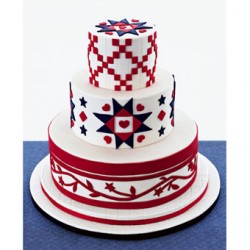 Happy Fourth of July!
While I hope you're enjoying a family cookout and lots of fireworks, it seemed only appropriate to showcase a patriotic red, white, and blue wedding cake today!
I love the abstract look of this cake. It's modern and fun with that all-American vibe thrown in for the holiday. Read More
0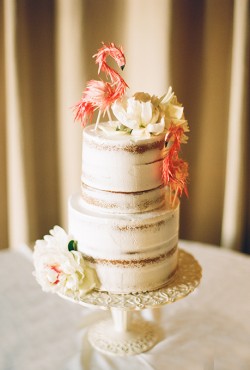 Strangely enough (or maybe not so strangely considering my love for all things warm and tropical) I adore flamingos.
Yes, they're odd looking – tall, pink birds – but they make me think of warm climates like Florida. Which makes me think about summer.
So it seems only fitting that I am in love with this summer-themed cake, made complete with the addition of adorable flamingos. Read More
1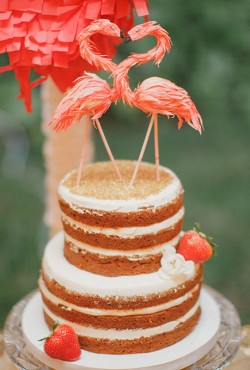 I made a trip to a local greenhouse over the weekend to purchase my summer flowers.
And while picking out my blooms, I spied the strawberry fields next door which got me thinking about that sweet summer fruit.
Around here, strawberries hit their peak in mid-June or so, which means I'll have a chance to enjoy some very, very soon!
But for now I'll have to be happy with today's wedding cake – which is adorned with bright red strawberries! Read More