Separated Tier Wedding Cakes
Separated tier wedding cakes refer to cakes that sit individually on their own stand, and are not necessarily above or below one another. In this way, the wedding cake takes on a "deconstructed" appearance. There may be several reasons to favor this approach when it comes to your wedding cake. First, it's different. Eight out of ten weddings that guests attend will have a stacked or tiered cake, and the ninth will have cupcakes! Separating your tiers, either on individual cake stands or a special cake stand provided by the bakery, will make a statement and will set your reception apart. Another reason to consider separated cake tiers is the size of the individual cakes. Perhaps you'd like similarly sized layers in different flavors. The approach permits you to have different layers that can all be the same size. Or perhaps you would like to have different designs or colors for each cake, unified by a single design element. This approach would permit you to have different "cakes," potentially for the same price as a stacked or tiered cake. If individuality is important to you, if you'd like your affair to be remembered for being "different," consider the approach of the separated tier wedding cake.
0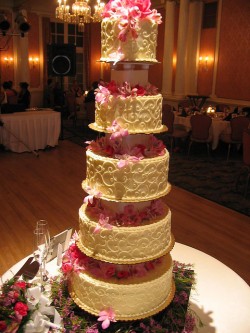 This cake reminds me of something that just happened to me recently. A group of my friends from college (who are mostly all single and without kids) all decided to meet up for dinner one night a few months ago. I hadn't seen most of the girls in ages. I bought a new outfit, washed my hair (a pretty miraculous feat for a working mom) and felt pretty good about myself. Until I showed up and my post-baby body couldn't even compare to the highlights, Coach Bags and skinny jeans that these girls donned. And they all seemed to be about 6 feet tall. That's what this cake is. A 6 foot tall blond with highlights and all the right accessories that just makes other cakes feel frumpy in comparison.
I mean really this cake might just be six feet tall. I don't have my measuring tape handy.
Anyway, this is a gorgeous FIVE tier round wedding cake..there must have been 500 people at this wedding! Decorated in a lovely beige fondant with a gorgeous swirl design covering the cake are a mixture of pretty pink flowers.
If cake's had a popularity contest this cake would win..and steal your boyfriend.
0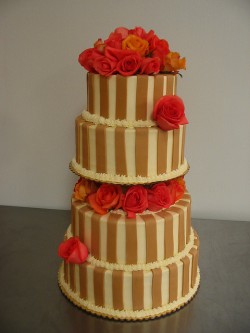 I have to admit. Spending a good chunk of my days looking at wedding cakes I have come to a conclusion. A lot of wedding cakes look the same. Now here is something you don't see everyday. A striped wedding cake!
I love it..love it, love it!
There are a few things about this cake that make it unique. First, the obvious. The stripes! These stripes could be so hard to pull off. One misplaces stripe on an otherwise gorgeous cake and all we would be talking about is how one stripe is a half a centimeter closer to the other stripe than it should be. I also love the subtle color of the brown stripes. I would love to see this in a light pink..or blue..or oh my gosh turquoise! I die! The second thing is the separated tiers. It's basically two cakes in one. The pink/peach/brownish roses that separate the tiers give it such great balance. If you hadn't heard..I love this cake!
0
On the one hand, I am clearly not over Valentine's Day with its flowers, and sugar, and pretty.  On the other hand… Read More
0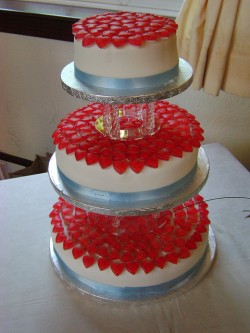 So…I'm pretty sure those are gummy hearts…and if they're not, they should be! I've never considered decorating with gummies, but how awesome is that?!
This is also the Read More
0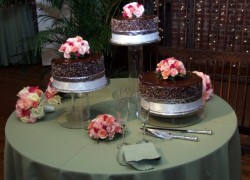 Happy New Year!
There is just something I love about a cake lathered in chocolate ganache! These three cakes are layered inside with chocolate cake and strawberry whipped cream. The whipped cream is so smooth and creamy that it tastes like ice cream! They are covered with chocolate ganache and adorned with Read More
0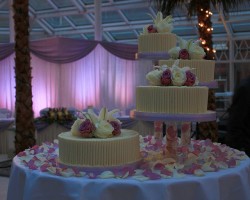 This gorgeous cake follows the trend of separated tier wedding cakes, offering the cake a wider surface area while sticking to the same amount of actual servings. Transport is also much easier, as each cake is transported in a separate box; this means that the cake still has a dramatic presentation without the dramatic "will it get there in one piece" fiasco!

I also really like the piped detail along the sides. The modern vertical lines offer a nice juxtaposition with the soft, traditional rose and lily toppers.
Finally, check out those cool cake stands! Rose petals inside!