Separated Tier Wedding Cakes
Separated tier wedding cakes refer to cakes that sit individually on their own stand, and are not necessarily above or below one another. In this way, the wedding cake takes on a "deconstructed" appearance. There may be several reasons to favor this approach when it comes to your wedding cake. First, it's different. Eight out of ten weddings that guests attend will have a stacked or tiered cake, and the ninth will have cupcakes! Separating your tiers, either on individual cake stands or a special cake stand provided by the bakery, will make a statement and will set your reception apart. Another reason to consider separated cake tiers is the size of the individual cakes. Perhaps you'd like similarly sized layers in different flavors. The approach permits you to have different layers that can all be the same size. Or perhaps you would like to have different designs or colors for each cake, unified by a single design element. This approach would permit you to have different "cakes," potentially for the same price as a stacked or tiered cake. If individuality is important to you, if you'd like your affair to be remembered for being "different," consider the approach of the separated tier wedding cake.
0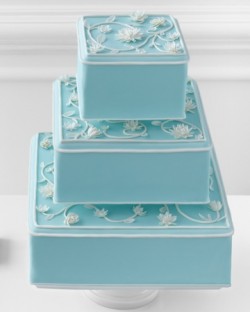 I love when old things are new again.
I remember when I was growing up that there was really no such thing as a stacked wedding cake.  It was the era of plastic columns and rigid structural work.  The first few times that I saw the rig that held cakes together, it was kind of like strolling "backstage" at Disney: the magic was gone.  The Mickey Head was off the guy, and he was Read More
0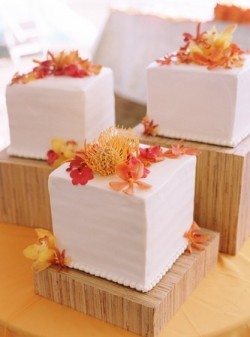 If you're a foodie, or enjoy watching any of the foodie shows on Bravo or Food Network (etc., etc., etc., infinity), then you've heard the term "deconstructed" applied to food.  It's been around for quite a while now, but you know, I don't really mind it.  It usually means that the chef is focusing far more on the sum of the parts than he normally would.
This cake caught my eye because it was a "deconstructed" wedding cake.  Now, that's not really all that new.  There was a mini-trend of separated tier cakes in the 80s, and it seems to continue to this day (you might remember Christen's Read More
0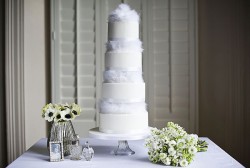 Some days I like my job, and somedays, I really love it.
What makes the difference?  Usually, it's interacting with the fun, friendly, vibrant community of bakers from all over the world that I'm getting to know through my work here on A Wedding Cake Blog.  Seriously, y'all.  I never would have dreamed 10 years ago that I would be chatting with gifted bakers from England and Australia.  Thank you, social media!
I asked for opinions on cakes that feature feathers a couple of weeks back, and Read More
0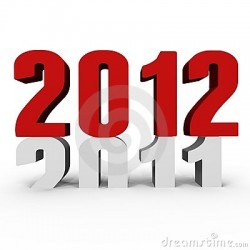 Take my opinion for what it's worth.  I am not a cake artist or a fashion forecaster (a real job…did you know that?)  However, I have been knee deep in cake batter for the last year AND I consider myself a fairly trendy girl.  Although it seems that trendy people never actually call themselves trendy…because that is so untrendy.  So maybe I'm not. Whatever, I have thoughts anyway.
While I can't see things like the ruffle and chevron patterns on cakes going away just yet, there are a few new looks we should keep our eyes on in 2012.  I assume a lot of them will end up on this blog!
The Mini-Cake.  It's not a cupcake or a cake pop, it's a full fledged cake shrunk down to size.  Very Alice in Wonderland if I do say so myself.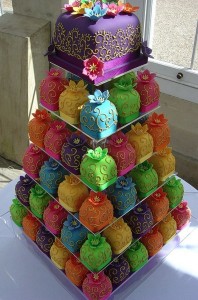 (Note, I never consider Pinterest a source..however this image was actually uploaded by the user).
Many Cakes. You read that right.  Not mini-cakes.  Many cakes.  On blogs and websites I am seeing more and more gorgeous pictures of a plethora of cakes.  I've seen three to as many as ten all in various colors or sizes but they all have a common theme among them that makes them match.  It's a trend I hope we see more of.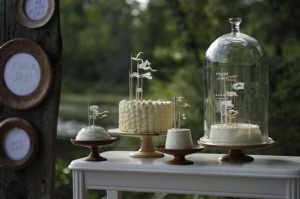 Minimalist Wedding Cakes. I am noticing an "M" theme here.  Wedding cakes are usually over the top and gorgeous.  Occasionally we'll find one with simple fondant and design but they can be pretty scarce (or eerily similiar to another cake we've featured).  Let's face it: there are only so many ways you can say, "This cake is white.  It is also round".  Now cake artists are coming up with alternate ways to stay minimal but always pack a little punch of creativity.  Like this cake that is stacked slightly off center with dark pearls (that may actually be blueberries) and an oyster shell.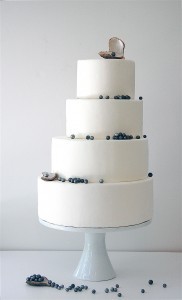 I know it will be another amazing year when it comes to Wedding Cakes.  Which trends are your favorite?  Which trends are you ready to see go?  Personally I love 'em all and can't wait to see what other goodies are in store for us in 2012!
0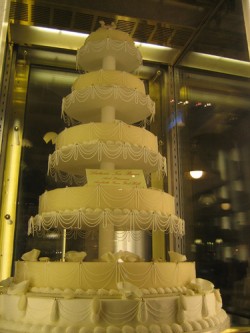 Oh hi, guess what?  It's our 300th post!  No big deal right?
Big deal to me!  Granted I know I haven't written all 300 of them myself…we've got to give a big shout out to Brooke who takes the weekend shift and creates a great round up…(not to mention fixing all of my grammatical errors)…but to me it's still a pretty big deal.  Basically because I never got past January 13th in my diaries that I swore I'd write in every day on December 31st.
Much like the fact that this is our 300th post, this cake is a BIG deal.  I mean literally.  Check it out.  It's HUGE.  It's a five-tier Read More
4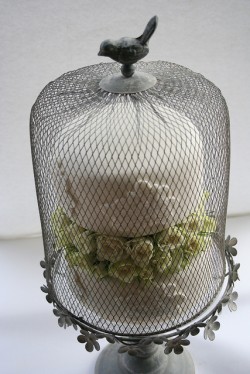 I'm all kinds of in love with Victoria Made. I knew it after we featured this cake and then this one. She is a goddess of gorgeous vintage style cakes.
This is a gorgeous separated two tier wedding cake with vintage inspired white roses between the two tiers. The cakes are covered in smooth white fondant and have a gorgeous fondant floral Read More
0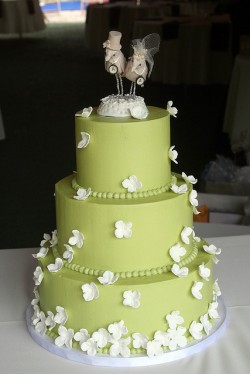 Get excited because this is a two part-er!
We have showcased hundreds of gorgeous wedding cakes on here.  The supply of amazing and gorgeous photos of cakes is limitless…but we all know those cakes didn't just appear out of thin air.  They came from somewhere.  They were made by someone who was inspired by an idea.
It's almost as exciting as the story about where babies come from.  Almost.
If you truly think about it this is your one opportunity as a bride to truly create something that symbolizes your wedding.  You wedding venue has done thousands of weddings before.  Your dress? There are probably at least a hundred other girls wearing it on your wedding day. Well, unless you are The Duchess of Cambridge of course.  Even though your baker has baked thousands of wedding cakes before.  Each every one is unique and special in their own way.  To me that makes them the most important part of your reception.
However, before you run into your baker for that wonderful tasting there are a few things you should do before choosing your baker.  This post will be in the form of a list.  Why?  Because I love lists.
1.  Research!  You're off to a good start if you're reading this.  Research is so important–because honestly you can't walk into a baker without any idea of what you want or else you'll end up with something that isn't truly yours.  While you won't actually be the one baking, sculpting, and icing, you Read More
2
I have a secret to admit.  As much as I honor tradition in a wedding I did not save the top tier of my wedding cake.  If you had a camera in my honeymoon suite you would have seen my brand new husband and I chowing down on our top tier in full wedding gear about ten seconds after we finished jumping up and down on the bed.
Most brides can handle their sweet tooth and post-reception hunger pangs better than I can and they Read More
0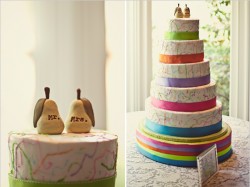 Ah, Weddings.  So many pretty things to see this week.  And we were especially bowled over by all of the incredible cakes that are being shared during this busy wedding season.  The creativity and talent of the bakers we rub shoulders with never ceases to amaze us.  So, if our round-up is a little cake heavy, please forgive me.  We are ALL Read More
0

Oh yes. We are going there. I was recently having a conversation with a friend of mine about this blog. He was asking me what the point of blogging about cake was. He didn't get it.
I had to explain that a wedding cake isn't just something you see, it's something you taste. If you go to a wedding and their cake is disgusting, you remember. If you go to a wedding and their cake is awesome, you remember. There have been more times than I'd like to count that I take a look at a gorgeous wedding cake and I cannot wait to dive in. Then after about six hours of dancing we FINALLY get to the cake cutting hoopla and I finally get my piece. (Because, of course, their wedding is ALL about me right?) Then after much anticipation…the cake sucks.
Have no fear though, because times they are a changing. Cake bakers are becoming more and Read More