Floral Wedding Cakes
What's not to love about a floral wedding cake? The trend to decorate cakes with flowers, whether real or gum paste, really became all the rage during the 1980s, when Martha Stewart showed us all how wrong we'd been doing weddings up to that point. Gone suddenly were the little bride and groom figurines made of porcelain or plastic that stood proudly atop cakes. Replacing them were mounds and cascades and accents of flowers of all shapes, sizes, and hues. The trend may have died down to some extent; today, we're as apt to see a bride and groom cake topper – or a pair of birds or bicycles, or anything else the couple might fancy – as flowers. But flowers have not lost favor completely. In fact, florists are still busy preparing floral toppers for cakes that match the bride's color palette and bouquet. Likewise, bakers are kept busy crafting handmade, sugar or gum paste flowers, or at the very least, custom coloring store bought gum paste creations to offset their beautiful cakes. There are a couple of points to remember when choosing to trim your cake with fresh flowers. First, make sure that the bloom you'd like to use is NOT poisonous. Wouldn't you hate to send people to the hospital because they ingested a piece of your cake that had ivy on it? And secondly, if at all possible, ask your florist for pesticide-free blooms. Bug killing chemicals = not tasty. And finally, if it's gum or sugar paste flowers that you're after, remind guests that, although they are technically edible, it's probably not very tasty or a good idea. If you want edible decorations, you should probably stick with real or marzipan fruit.
0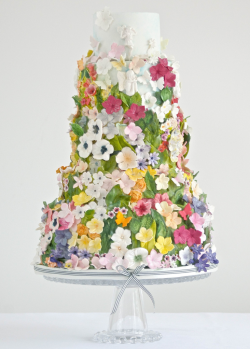 April showers bring May flowers and at the rate it's raining around these parts there is going to be an explosion of beautiful blooms in a few weeks.
In fact, it might look a lot like today's wedding cake – but that's OK because I am loving this blooming springtime cake!
If you're want a cake that screams SPRING!…this is that cake. Read More
0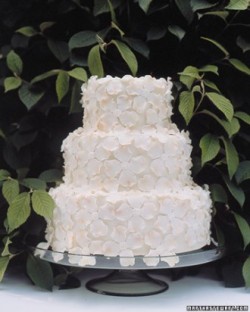 Spring is in the air which means it is the perfect time to start sharing gorgeous spring-inspired wedding cakes.
Today's cake is lovely and spring-y and adorned with flower petals. Sugar flower petals to be exact.
And we all know sugar flowers are better than real flowers because you can eat them. Read More
0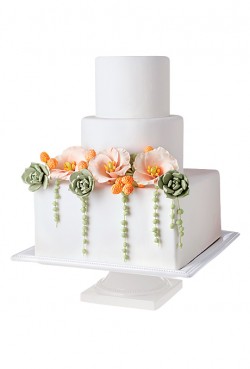 It's the first day of April and spring is in the air and that's no joke!
As I look outside I'm spying buds on the trees and tulips popping out of the ground and I'm convinced that the warmer weather is here to stay.
Which means I just had to find a gorgeous wedding cake today with springtime flowers!
This cake is that perfect springtime confection. Read More
0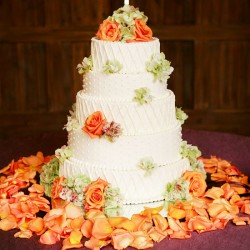 There's something to be said for a traditional white wedding cake.
While I do love the non-traditional, oddly shaped, bright colored cakes that I often feature here sometimes it is nice to just find a lovely white wedding cake.
This four tier cake is simple and elegant and practically perfect in every way. There's nothing boring about it either. The tiers are are iced with traditional butter cream icing.
But instead of leaving them plain the icing is decorated with Swiss dots and diamonds that were piped onto the icing – giving it just the right amount of elegance and pop!
To add even more to the cake – without going overboard – fresh flowers are used to adorn the cake. This is a fun idea because you can use any flower you like. Smaller buds would be ideal for the cake but larger blooms would work for the cake topper.
And, a traditional white cake is perfect in any season.
You can find this cake here.
0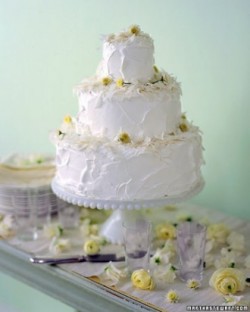 Despite the cooler-than-normal temperatures that won't let go, it is officially spring! And that means fresh flowers are on my mind, especially when it comes to wedding cakes.
I love seeing wedding cakes with fresh flowers – they give the cake a nice pop of color while keeping things elegant and classy. Plus, it's a good way to incorporate your bouquet flowers into the reception.
Now while you might not be carrying mums in your bouquet, I'm still a fan of this springy white wedding cake. Read More
0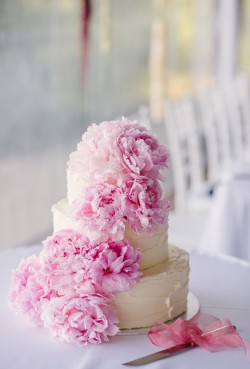 When I'm looking for wedding cakes to share with you I'm always searching for that one cake that stops me in mid-scroll.
That cake that wows me from my computer screen. And today that cake is this one with the pretty pink flowers.
As we inch closer and closer to spring and the much-anticipated blooming of springtime I flowers I just had to find a cake that had lovely blooms as part of the decorating.
I love this cake for its simplicity and elegance. Read More
0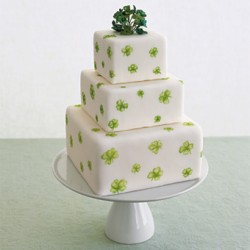 Tomorrow we'll all be celebrating St. Patrick's Day and the wearing o' the green, so today seemed like a good day to showcase a cake with little green shamrocks!
This lovely three-tier cake is iced with gorgeous rolled fondant which is decorated with sugar paste four leaf clovers. Read More
0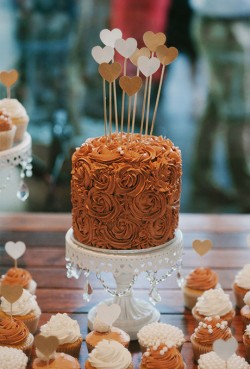 You ever have one of those days when you are craving chocolate?
Happens to me every day and today I decided to do something about it – I found the perfect one-tier chocolate wedding cake just for you!
I love the idea of serving a wedding cake iced with decadent chocolate icing. Why? Because your guests won't be expecting it. They'll be waiting for a cake with white icing and some pretty embellishments.
But chocolate cake? That'll keep your guests talking about your wedding for a very long time!
And this one-tier cake is so pretty! The chocolate icing looks like roses and the gold and silver hearts as cake toppers adds that perfect amount of whimsy to the cake.
Of course, it is just a one-tier cake so it might be enough for you and your new spouse. I think this cake would be ideal as the cake you cut and then you could serve a bigger wedding cake (or even cupcakes!) to your guests.
You can find this cake here. It was created by Tealicious House.
0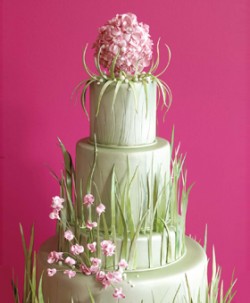 The great spring thaw of 2015 is happening right now in the northern half of the country and we're slowly starting to see hints of green(ish) grass under the melting snow!
Which got me thinking about springtime grass and flowers and everything starting to bloom. Which of course made me think about green wedding cakes with flowers. It's how my brain works. Read More
0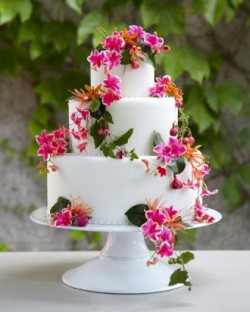 It's March! So that means spring MUST be just around the corner, right?
Well I'm convinced that the snow has to end soon so I'm showcasing spring wedding cakes today. And this all-white cake with cascading fresh flowers is perfect for a spring wedding!
The wedding cake itself is a classic and elegant three-tier white fondant cake. On its own, the cake would be pretty but boring. But when you add a splash of bright colors with fresh flowers it changes everything! Read More