Floral Wedding Cakes
What's not to love about a floral wedding cake? The trend to decorate cakes with flowers, whether real or gum paste, really became all the rage during the 1980s, when Martha Stewart showed us all how wrong we'd been doing weddings up to that point. Gone suddenly were the little bride and groom figurines made of porcelain or plastic that stood proudly atop cakes. Replacing them were mounds and cascades and accents of flowers of all shapes, sizes, and hues. The trend may have died down to some extent; today, we're as apt to see a bride and groom cake topper – or a pair of birds or bicycles, or anything else the couple might fancy – as flowers. But flowers have not lost favor completely. In fact, florists are still busy preparing floral toppers for cakes that match the bride's color palette and bouquet. Likewise, bakers are kept busy crafting handmade, sugar or gum paste flowers, or at the very least, custom coloring store bought gum paste creations to offset their beautiful cakes. There are a couple of points to remember when choosing to trim your cake with fresh flowers. First, make sure that the bloom you'd like to use is NOT poisonous. Wouldn't you hate to send people to the hospital because they ingested a piece of your cake that had ivy on it? And secondly, if at all possible, ask your florist for pesticide-free blooms. Bug killing chemicals = not tasty. And finally, if it's gum or sugar paste flowers that you're after, remind guests that, although they are technically edible, it's probably not very tasty or a good idea. If you want edible decorations, you should probably stick with real or marzipan fruit.
0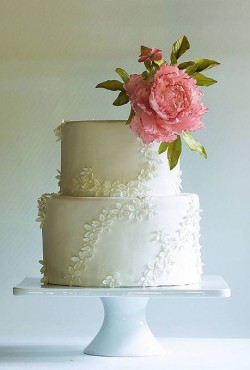 Spring is definitely in the air and that has me thinking about spring-inspired wedding cakes!
Take today's cake – it's delicate and elegant and even has a lovely fresh flower for some added beauty.
I love the delicate and romantic floral lace design on the cake. Read More
0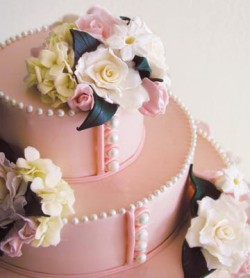 I love the idea of pink wedding cakes – especially in the springtime!
There are so many variations of the color pink – and so many ways to make the color pop on your cake. Read More
0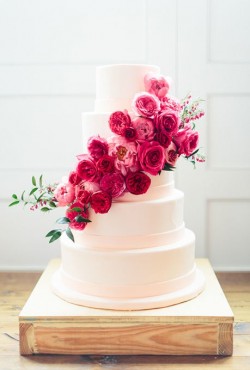 Growing up, pink was not my favorite color. But now, I will admit that I'm kind of partial to all things pink.
And I especially love the idea of having a pink wedding cake. My favorite hue – a light pink. Think, pastel.
It's the perfect color for spring or early summer and it has a very happy vibe to it. Read More
0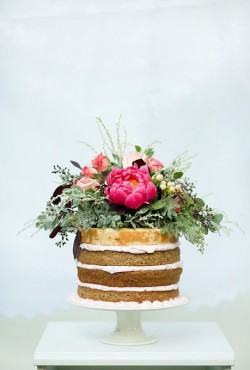 Can you feel it? We're getting SO close to the first day of spring! I want to celebrate with all kinds of fresh flowers!
Specifically, let's celebrate with today's gorgeous "naked" wedding cake topped with a huge bouquet of fresh flowers.
How lovely is this cake?
The single-tier vanilla cake with white icing is rather nondescript on its own. In fact without the flowers it would be kind of boring. Read More
0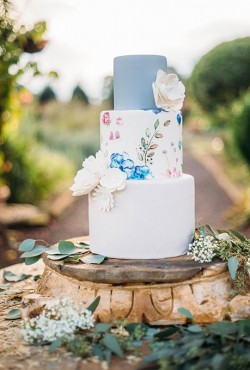 We're just a couple weeks away from the official start of spring so of course we're thinking about all the lovely spring flowers that will soon be blooming!
Today's cake reminds us of all things spring thanks to the lovely painted flowers on the middle tier and the use of sugar flowers.
This three-tier cake is stunning – the combination of blue and white on a wedding cake is a favorite here at A Wedding Cake Blog. Read More
0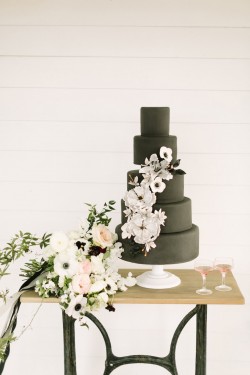 It's not secret that I'm a fan of dark and dramatic wedding cakes – especially those that use black icing.
That is such an unexpected choice for a wedding cake and it's also perfect when you want to make a statement with your cake.
Of course a dark cake needs something bright to make it pop, and we love the addition of a cascade of bright white blooms. Read More
0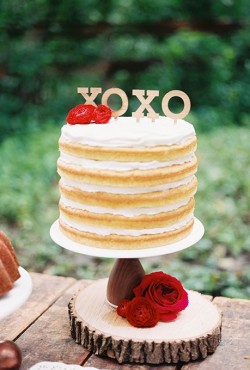 Happy day after Valentine's Day! Since we're all about celebrating all things loves, we're still celebrating today.
And today's featured cake is topped with hugs and kisses!
This simple yet elegant naked vanilla wedding cake is made even lovelier with the addition of the "xoxo" cake topper and a few bright blooms. Read More
0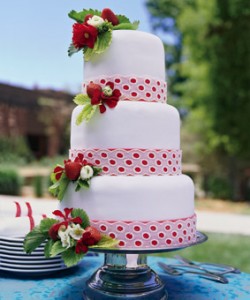 Happy (early) Valentine's Day!
Since we're all about celebrating love here at A Wedding Cake Blog, it seems like a perfect day to feature a red and white cake in honor of Valentine's Day.
This pretty cake features three tiers adorned with stark white icing, accented with red and white ribbon. I love the use of the ribbon to separate the tiers on this cake! Read More
0
I'm not sure how I feel about today's featured wedding cake.
There's almost too much going on for one cake. I love the light blue icing and the sprinkle layers. I also love the deep red ribbons between tiers.
But the red flowers with peppermint candy centers? Those are pretty too. But put together – it just seems so busy at first glance. Read More
0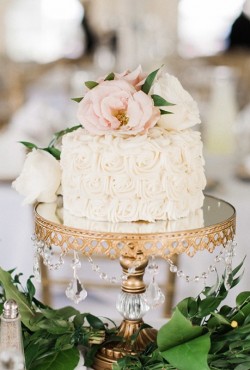 I love roses. They're one of my favorite blooms, especially when it comes to wedding flowers.
In fact, my wedding bouquet was made of roses and I used roses on my 8-tier wedding cake.
Today's cake is a bit more simple – with just one tier – and much more rustic than my over-the-top early-2000's cake. Read More