Floral Wedding Cakes
What's not to love about a floral wedding cake? The trend to decorate cakes with flowers, whether real or gum paste, really became all the rage during the 1980s, when Martha Stewart showed us all how wrong we'd been doing weddings up to that point. Gone suddenly were the little bride and groom figurines made of porcelain or plastic that stood proudly atop cakes. Replacing them were mounds and cascades and accents of flowers of all shapes, sizes, and hues. The trend may have died down to some extent; today, we're as apt to see a bride and groom cake topper – or a pair of birds or bicycles, or anything else the couple might fancy – as flowers. But flowers have not lost favor completely. In fact, florists are still busy preparing floral toppers for cakes that match the bride's color palette and bouquet. Likewise, bakers are kept busy crafting handmade, sugar or gum paste flowers, or at the very least, custom coloring store bought gum paste creations to offset their beautiful cakes. There are a couple of points to remember when choosing to trim your cake with fresh flowers. First, make sure that the bloom you'd like to use is NOT poisonous. Wouldn't you hate to send people to the hospital because they ingested a piece of your cake that had ivy on it? And secondly, if at all possible, ask your florist for pesticide-free blooms. Bug killing chemicals = not tasty. And finally, if it's gum or sugar paste flowers that you're after, remind guests that, although they are technically edible, it's probably not very tasty or a good idea. If you want edible decorations, you should probably stick with real or marzipan fruit.
0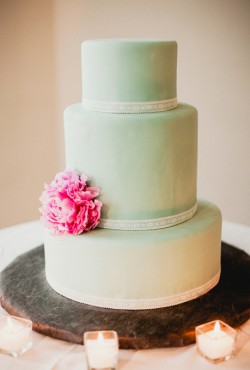 I'm all about thinking spring right now!
Sure it's been a mild winter here in the Midwest but with a potential snowstorm in tonight's forecast I've decided that I'm done with winter and just want to focus on spring.
And spring means all things green! It's the one time of year that I really, really like the color green.
Green grass. Green leaves. Shamrock Shakes. You know, all things spring. Read More
0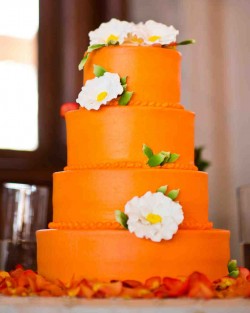 It might be the middle of winter but that won't matter when you check out this bright orange wedding cake!
This brightly hued cake will boost your spirits immediately and bring a smile to your guests' faces. And really, who expects to see an orange wedding cake at a reception? No one, that's who. Read More
0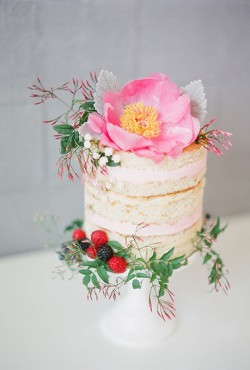 We're still daydreaming about spring even if winter is still hanging on and sending more cold temperatures our way.
And one of the things we love most about spring is the arrival of gorgeous flowers.
Of course we also love fresh flowers on wedding cakes, like the blooms on today's naked wedding cake. Who needs icing when you have flowers, right? Read More
0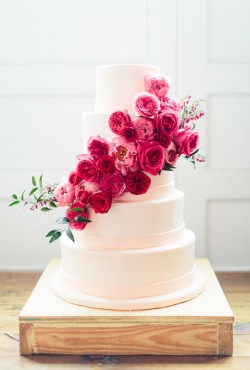 The groundhog has spoken and we're in for an early spring this year!
So it only seems appropriate to start dreaming about springtime wedding cakes covered in lovely, bright colored blooms.
I love fresh flowers on wedding cakes – it is the perfect way to make a statement with your cake without being too over-the-top. Read More
0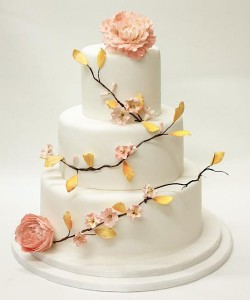 It seems like a good time to start dreaming about springtime wedding cakes adorned with gorgeous blooms.
Never-ending winter weather will do that to a girl, ya know?
I'm loving this wedding cakes thanks to its simple elegance and charm. Read More
0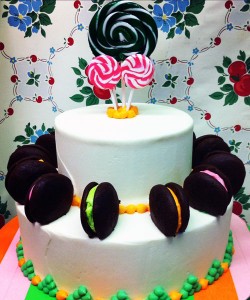 OK, here we are. In the middle of January. It's cold and snowy and we need something to cheer us up!
Well I'm happy to report that I found something – this wedding cake!
How can you not smile when you look at this fun and whimsical wedding cake? It is decorated with whoopie pies for crying out loud.
Whoopie pies. On a wedding cake. My day is complete. Read More
0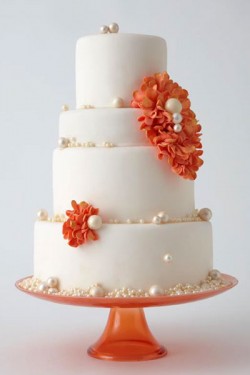 There's a fresh blanket of snow around here today, which has me daydreaming about spring and sunshine and flowers.
So of course that means that I had to find a cake that featured a bright, springy flower!
This elegant white cake with the peach flowers is the perfect antidote to a gloomy winter day.
The multi-tiered white cake features classic white icing that could have been boring but for the addition of the different sizes of pearls. Read More
0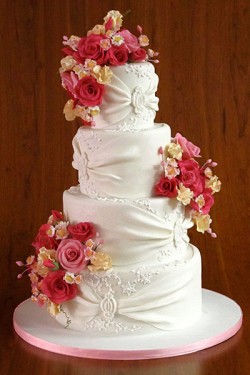 Winter is really REALLY here. Which means it is the perfect time to start dreaming about beautiful spring flowers!
Today's cake is perfect for floral daydreaming, don't you think?
I absolutely love the gorgeous pink roses – they make the cake almost too pretty to cut. Almost. Read More
0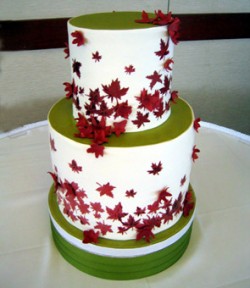 It's beginning to look a lot like Christmas around here so it seemed like a good day to find a green and red wedding cake!
I love this cake. It's fun and modern and whimsical. And it would be great for a winter wedding.
The three-tiered cake features bright green icing one the top of the tiers which really makes the cake pop. Read More
0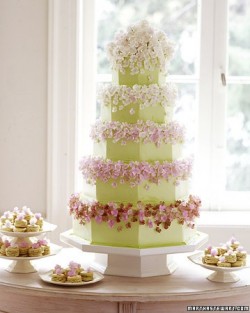 Since we're inching closer and closer to Christmas it seemed like a good time to feature a green wedding cake.
Today's cake is a five-tier creation and it is elegant and gorgeous and it would be incredible at a black-tie reception.
While I'm not a huge fan of the color green, this cake grabbed my attention thanks to its unique hue. It's more lime green than evergreen but the addition of the sugar hydrangeas makes it perfect. Read More