Separated Tier Wedding Cakes
Separated tier wedding cakes refer to cakes that sit individually on their own stand, and are not necessarily above or below one another. In this way, the wedding cake takes on a "deconstructed" appearance. There may be several reasons to favor this approach when it comes to your wedding cake. First, it's different. Eight out of ten weddings that guests attend will have a stacked or tiered cake, and the ninth will have cupcakes! Separating your tiers, either on individual cake stands or a special cake stand provided by the bakery, will make a statement and will set your reception apart. Another reason to consider separated cake tiers is the size of the individual cakes. Perhaps you'd like similarly sized layers in different flavors. The approach permits you to have different layers that can all be the same size. Or perhaps you would like to have different designs or colors for each cake, unified by a single design element. This approach would permit you to have different "cakes," potentially for the same price as a stacked or tiered cake. If individuality is important to you, if you'd like your affair to be remembered for being "different," consider the approach of the separated tier wedding cake.
0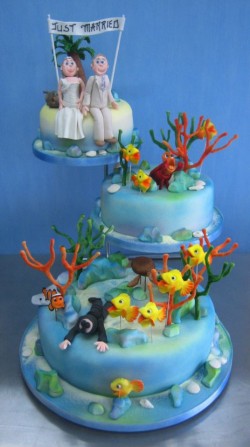 We found Nemo and he's on a wedding cake!
This amazing three-tier novelty wedding cake is a creation from Hockleys Cakes located in the United Kingdom.
They are specialists in the wedding cake biz across the pond and I am loving their designs and can't wait to feature more in the weeks to come.
But right now let's talk about this Nemo wedding cake because it's just amazing!
This novelty wedding cake features an undersea scene complete with Nemo, Crush the totally cool sea turtle, and of course the bride and groom are sitting atop the cake under a palm tree. I think I even spy Sebastian hanging out by the coral in the middle tier! Read More
Other Posts You May Enjoy:
0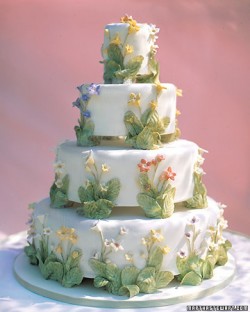 The weather outside might be frightful, but this cake is so delightful.
Yes, we might have just "celebrated" the first full day of winter, but that just means that we have a mere 86 days until the first day of spring, so I think right now is the perfect time to start daydreaming about lovely springy flowers.
And so, I give you the primrose wedding cake.
This gorgeous four-tier cake looks like it has a garden of flowers blooming around each tier. Read More
Other Posts You May Enjoy:
0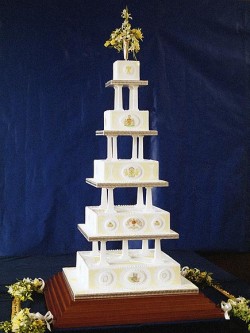 This week's flashback cake takes us all the way back to July 23, 1986 when Prince Andrew married Sarah Ferguson, who became known as Her Royal Highness The Duchess of York, Countess of Inverness, Baroness of Killyleagh, and Princess of the United Kingdom.
Or we can just call her 'Fergie' like everyone else does.
I always liked this royal couple – they seemed a bit more down to earth than Charles and Diana, sort of like an old school William and Catherine – and I was a bit sad when they divorced in 1996.
But maybe you've heard the news this week that Prince Andrew and Fergie are possibly reuniting and rekindling their romance! Read More
Other Posts You May Enjoy:
0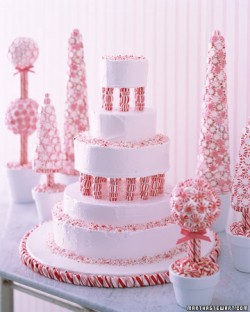 How fun is this cake if you were thinking about having a Christmas in July wedding? It's kind of perfect, really.
Now I'm not sure how many people have a Christmas in July theme for their wedding, but it would be a lot of fun especially when it's a million degrees outside. Your guests could be enjoying a fun winter wonderland complete with this red, white, and pink creation.
I especially love that they've used the red and white Read More
Other Posts You May Enjoy:
0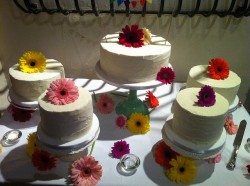 This cake reminded me so much of my friend Christen that I just had to share it with you.
Christen used to contribute regularly to A Wedding Cake Blog, and I know that she still loves to keep up with all the Sweet and Pretty that we feature here. And this cake actually reminds me of her for two reasons: Read More
Other Posts You May Enjoy:
0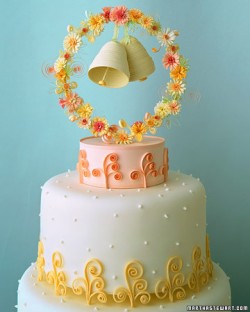 Doesn't this cake just say spring wedding to you?
If you're a bride looking forward to spring or summer nuptials, I super think you need this cake. I adore the nod to tradition with the wedding bells. And the whimsy of the daisies makes Read More
Other Posts You May Enjoy:
0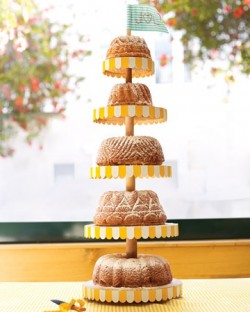 I can't see bundt cakes without thinking of My Big Fat Greek Wedding.  But perhaps that's a discussion for another post.
I don't know about you, but usually sometime during — or immediately following — the holidays, I seem to have a mini-burst of minimalism.  Usually, it comes in January, after the 12th day of Christmas has come and gone. But this year, I'm having one right now.  Maybe because of the Read More
Other Posts You May Enjoy:
0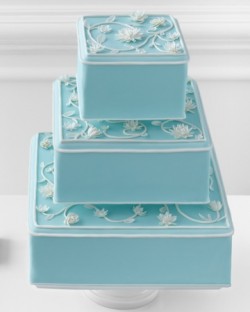 I love when old things are new again.
I remember when I was growing up that there was really no such thing as a stacked wedding cake.  It was the era of plastic columns and rigid structural work.  The first few times that I saw the rig that held cakes together, it was kind of like strolling "backstage" at Disney: the magic was gone.  The Mickey Head was off the guy, and he was Read More
Other Posts You May Enjoy:
0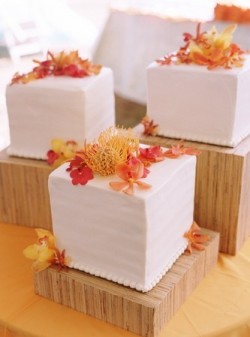 If you're a foodie, or enjoy watching any of the foodie shows on Bravo or Food Network (etc., etc., etc., infinity), then you've heard the term "deconstructed" applied to food.  It's been around for quite a while now, but you know, I don't really mind it.  It usually means that the chef is focusing far more on the sum of the parts than he normally would.
This cake caught my eye because it was a "deconstructed" wedding cake.  Now, that's not really all that new.  There was a mini-trend of separated tier cakes in the 80s, and it seems to continue to this day (you might remember Christen's Read More
Other Posts You May Enjoy:
0
Some days I like my job, and somedays, I really love it.
What makes the difference?  Usually, it's interacting with the fun, friendly, vibrant community of bakers from all over the world that I'm getting to know through my work here on A Wedding Cake Blog.  Seriously, y'all.  I never would have dreamed 10 years ago that I would be chatting with gifted bakers from England and Australia.  Thank you, social media!
I asked for opinions on cakes that feature feathers a couple of weeks back, and Read More
Other Posts You May Enjoy: