Separated Tier Wedding Cakes
Separated tier wedding cakes refer to cakes that sit individually on their own stand, and are not necessarily above or below one another. In this way, the wedding cake takes on a "deconstructed" appearance. There may be several reasons to favor this approach when it comes to your wedding cake. First, it's different. Eight out of ten weddings that guests attend will have a stacked or tiered cake, and the ninth will have cupcakes! Separating your tiers, either on individual cake stands or a special cake stand provided by the bakery, will make a statement and will set your reception apart. Another reason to consider separated cake tiers is the size of the individual cakes. Perhaps you'd like similarly sized layers in different flavors. The approach permits you to have different layers that can all be the same size. Or perhaps you would like to have different designs or colors for each cake, unified by a single design element. This approach would permit you to have different "cakes," potentially for the same price as a stacked or tiered cake. If individuality is important to you, if you'd like your affair to be remembered for being "different," consider the approach of the separated tier wedding cake.
0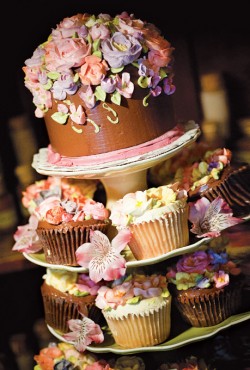 I love the idea of serving cupcakes at a wedding reception.
They're fun and functional. And everyone loves cupcakes!
But what if you want to serve cupcakes but still have a traditional wedding cake to cut too? Simple – serve both!
This is a fun concept – have a small, one tier wedding cake as the "main" cake – basically for the couple to cut – and then surround it by gorgeous cupcakes. Read More
0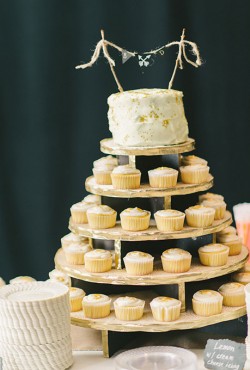 While wedding cupcakes are still a trend some brides really want to stick with tradition and have that wedding cake. But what if you could do both?
That's right – let them eat cake AND cupcakes!
I love the idea of keeping the traditional wedding cake as part of the reception – it is easier to cut a slice of cake than it is to share a cupcake with your new spouse. Read More
0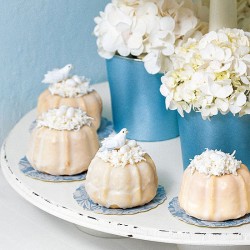 It's no secret that I love cake. Especially wedding cake.
There's just something extra special about wedding cake that makes it taste better than your average every day cake.
So how amazing would it be if you could serve your guests their own wedding cake?
I'm not talking about a slice of cake – I'm talking about miniature wedding cakes. One for every guest. Read More
0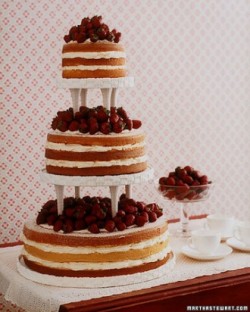 One of my favorite summertime fruits is the strawberry! They're sweet and perfect and can be used in so many ways, even on a wedding cake!
I love strawberry shortcake and today's naked wedding cake reminds of that sweet treat.
This wedding cake was created with pound cake (of course!) and layers of mascarpone cream and strawberries. I think it might be my new favorite spring or summer wedding cake. Read More
0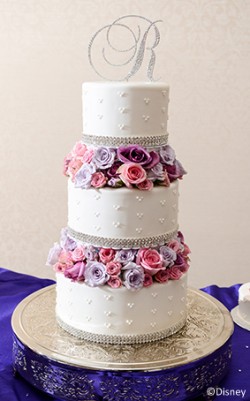 It's been a while since we featured a wedding cake from Disney's Fairytale Weddings and Honeymoons, so when I saw this cake I just had to share it!
My favorite aspect of this cake – the purple flowers. Sure there are also some pastel pink flowers in there but I am in love with the lilac roses!
I love wedding cakes with fresh flowers and when those flowers are roses I love it more. But when they're purple (and pink) roses? It's all over. I think this could be my new favorite wedding cake. Read More
0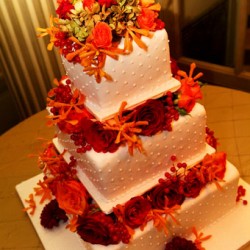 Just because there's a chill in the air doesn't mean you can't have a wedding cake that features beautiful fresh flowers.
As I think back to my own wedding cake (12 years ago!) the one element I loved most – other than the heart-shaped tiers – was the use of fresh black magic roses on the cake. Read More
0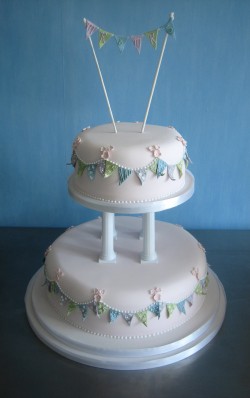 As we cling to the last days of summer I wanted to showcase this cake because it reminds of an old fashioned summer fair.
This gorgeous two-tier wedding cake was created by our friends at Hockleys Cakes and they described it as typical English afternoon tea cake.
I love the elegant simplicity of the cake. The smooth white icing accented on each tier with small pearls lends an air of sophistication to the cake. The tiers are separated by white columns. Read More
0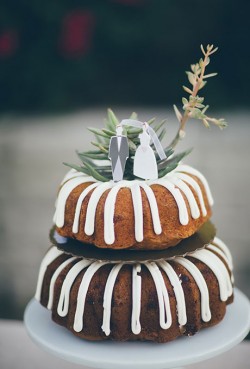 I'm always looking for great non-traditional wedding cakes – something out of the ordinary and unique.
I think today's cake fits that description.
I give you the "bundt cake wedding cake."
Now, when I think about bundt cakes I think about birthday cakes with chocolate glaze drizzled on the cake. I have never thought about a bundt wedding cake. Until now.
I love the simplicity of this cake – there's no muss, no fuss. It just a two-tier bundt cake frosted with simple white icing drizzled down the sides. Read More
0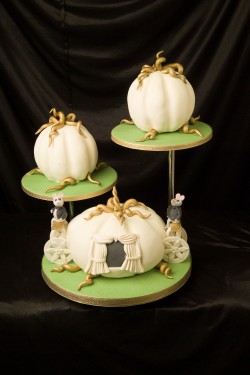 If there's ever a day when you truly feel like a princess, it's your wedding day.
So why not celebrate with a cake fit for a princess?
A cake exactly like this Pumpkin Carriage Cake from our friends at Hockley's Cakes over in the United Kingdom.
I don't know about you, but Cinderella is my favorite princess and this cake is perfect if you're thinking about a wedding with that sort of theme or if you're a fan of Disney princesses. Read More